Battling besharmi
Do the recent besharmi morchas, following in the footsteps of the much-publicised Pink Chaddi Campaign of 2009, prove that the situation of women in public places has not improved? And are such movements a better way for women to fight the battle for respect in public spaces and homes? Vimla Patil checks out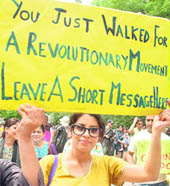 Following the first-ever 'slut walk' in Toronto in April, 2011, to protest against sexist remarks and attitudes in public life, Indian women, too, have decided to express their anger at the disrespect they face in daily life as well as in offices and homes.



What women can do to avoid sexual harassment

Pink Chaddi & beyond
Shortly after the Pink Chaddi Campaign, a group of activists started a Facebook group to exchange views. This was hacked and threats and sexist slurs were added to the comments. Eventually, Facebook, unable to control the hacking, disabled the account and stopped any access to its contents.
Pahari flavour
Historians agree that Basohli miniatures are the oldest of all the Pahari paintings with offshoots in the Jammu region and Himachal Pradesh, writes Suraj Saraf
Raja Kirpal Paul of Basohli was by all means a remarkable ruler. Given keenly to literary, artistic and spiritual pursuits, he immortalised himself by pioneering the world- famous Basohli school miniatures which find a place of pride in every important museum globally.
At the Lord's alter
Tribune photographer Anand Sharma and staffer Ravi Krishnan Khajuria trekked the 14-km- long arduous Baltal track to have a rendezvous with Lord Shiva at His abode — the Amarnath Cave Shrine this year

In Shiva's abode
Ravi Krishnan Khajuria
Every year more than four lakh pilgrims visit the cave shrine from June-end to mid-August to pay obeisance to the ice lingam. The pilgrimage requires physical as well as mental toughness. Baltal is one of the two starting points of the yatra. Once at Baltal, our expedition started from Domali around 8 PM on June 28.
Green decor
Ritu Rana
Transform a dinner party table, console, mantle piece or a coffee table with a centrepiece of glossy foliage of evergreens, berries, succulents and candles without having to splurge on ornamental flowers and greens from the florists.
On a high with a tie
A tie gives you confidence and makes you feel good, says Hector Choksi
TO wear or not to wear? Wearing a tie to work has always been a bone of contention in corporate circles. India being a tropical country, wearing ties seems quite impractical, but as a fallout of the days of the Raj, it has continued to be a corporate tradition.
World's first waterproof book
THE world's first waterproof book is set to hit shelves next summer. The book is covered with a clear wax sealant that will prevent the ink from running, and stop pages from becoming soggy and tearing when wet.
'Being sexy is a state of mind'
Anushka Sharma, who was recently chosen as the cover girl for international men's magazine Maxim, in conversation with Sreya Basu
What's your definition of being sexy?
I think being sexy is a state of mind. Especially for a woman, it's the way you feel; how confident you feel in your skin.
The craft of Konkona
Shoma A. Chatterji chats up the versatile actor, whose Iti Mrinalini, directed by her mother Aparna Sen, was released recently
Konkona Sen Sharma has come a long way since her first appearance on screen as a three-year-old boy in a Bengali film Indira. She made her debut as leading lady in Ek Je Aachhey Kanya, a psychological thriller in Bengali, directed by Subrata Sen. The film established her as an actress of talent and versatility.
Clooney's success secret
George Clooney has revealed that he had made many mistakes in his career but has always bounced back from them. Clooney, 50, believes that it's all because of the 'terrible' work he did that he is now a successful actor.