LIFE+STYLE

CHANDIGARH

LUDHIANA

BATHINDA

JALANDHAR

AMRITSAR TRIBUNE

JALANDHAR TRIBUNE

BATHINDA TRIBUNE

JAMMU TRIBUNE

KASHMIR TRIBUNE

DELHI

DEHRADUN

DEHRADUN PLUS

Collegium system working well, why change it: New CJI
New Delhi, July 6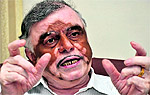 Justice P Sathasivam, who will take over as the Chief Justice of India later this month, says he will take the opinion of all Supreme Court judges on the move to replace the present Collegium system and convey it to the government, provided the Law Minister sought the SC's views before introducing the relevant Bill in Parliament.

Won't oppose Food Bill: Rajnath
Nagpur, July 6
BJP president Rajnath Singh today termed the ordinance promulgated by the Union Cabinet to implement the Food Security Bill a "cruel joke" on democracy and said his party would not oppose the passage of the Bill in Parliament but seek amendments to it.



PIL filed in SC against ordinance

Reds look to revamp military wing
Specially trained men to take up positions in guerilla zones, says document
Hyderabad, July 6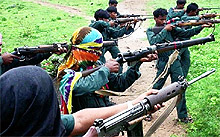 Facing the heat from security forces, the Maoists have firmed up plans to raise an additional 14 battalions of People Liberation Army (PLA), the military wing of the banned CPI (Maoist).
A file photo of Maoists armed with weapons.
OTHER PAGES

PUNJAB: Clash after Akali sarpanch's relative run over by car


J&K: Udhampur-
Banihal highway gets Rs 11,000-cr revamp plan


HIMACHAL: Move to decongest IGMC


CHANDIGARH: Bassi in, Chawla out on posters


LUDHIANA: Civic body does a clean-up act


DELHI: Building collapse: Contractor killed, 14 labourers hurt

Business: US economy adds 195k jobs, unemployment rate 7.6%

OPINIONS: Development yes, but not at the cost of nature


NATION: Reaching out to Nitish, Centre clears Rs 4,130 cr for Bihar roads


SPORTS: Take a bow, brilliant Bartoli

WORLD: ElBaradei to be Egypt's interim PM


The tribune guide to best colleges

Budget
2013-14

INDIA CHINA WAR 50 YEAR LATER

YEAREND SPECIAL: 2012

Year of survival

The tribune 130 years
a witness to history
book released by prime minister manmohan singh

Guide to best colleges

Results of Punjab Assembly Polls 2012

HIMACHAL VOTES 2012

EARLIER FEATURES
1984 riots: Victims appeal against Sajjan's acquittal
New Delhi, July 6
Congress leader Sajjan Kumar's acquittal in a 1984 anti-Sikh riot case was today challenged in the Delhi High Court by members of the victims' family who contended that the trial court failed to appreciate the large number of legally admissible evidence in its verdict.
Boeing 777 crash-lands at San Francisco
San Francisco: An Asiana Airlines Boeing 777 flying from Seoul crashed while landing early on Sunday (IST) at San Francisco International Airport, the US Federal Aviation Administration said. There was no word on injuries till reports last came in. The Boeing 777 can carry up to 300 passengers, but spokesman Lynn Lunsford said it was unclear how many people were on board flight No. 214. Images from a TV station in San Francisco showed extensive fire damage to the plane, which lost its tail in the crash. Fire engines were on scene and the fire, which had burned through the cabin's roof, appeared to be out. A video posted to YouTube showed passengers jumping down inflatable emergency slides. — Agencies
PGIMER to set up national healthcare engg institute
Satellite centres at Sangrur, Ferozepur get in-principle approval
Chandigarh, July 6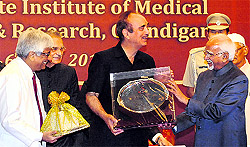 The Post-Graduate Institute of Medical Education and Research (PGIMER) is going to set up a national institute.

Vice-President Hamid Ansari (R) being honoured by Union Minister for Health and Family Welfare Ghulam Nabi Azad (C) at the 51st foundation day of the PGIMER, Chandigarh, on Saturday. Prof Yogesh Chawla, Director, PGI, is at the extreme left. Tribune photo: Pradeep Tewari

Freebie offers vitiate poll process: SC
July 6, 2013
Food security ordinance raises Opposition hackles
July 5, 2013
Maoists kill SP, 5 cops in Jharkhand
July 3, 2013
U'khand gets rehab authority
July 2, 2013
As toll estimates mount, states asked to verify their missing
July 1, 2013
Toll now put at 3,000; NDMA says 2,300 villages still cut off
June 30, 2013
Rs 1 lakh crore infra projects under PPP mode in 6 months
June 29, 2013
Cabinet go-ahead for CBI autonomy
June 28, 2013
PM, Sonia flag off first train to Kashmir Valley
June 27, 2013
Manmohan, Sonia in J-K vow to fight terror
June 26, 2013
Militants strike again, kill 8 jawans in Valley
June 25, 2013