PUNJAB

HARYANA

JAMMU & KASHMIR

HIMACHAL

REGIONAL BRIEFS

NATION

OPINIONS

MAILBAG

BUSINESS

SPORTS

WORLD

ADVERTISEMENT
ADVERTISEMENT
ADVERTISEMENT
Saturday, February 3, 2007, Chandigarh, India
Updated at 3:00 am (IST)

Civic Polls
Sena-BJP back, jolt for Cong
Mumbai, February 2
Urban Maharashtra's honeymoon with the Congress is clearly over with the party holding onto just a single civic body on its own. Despite being buffeted by defections of both former Chief Minister Narayan Rane and Raj Thackeray, the Shiv Sena along with its ally, the BJP, managed to bag six of the 10 civic bodies that went to the polls on Thursday.


In video (56k)


Editorial: Tiger's day


Nation page: Cong can't take on Sena-BJP sans NCP crutches
Punjab Votes '07
4 Dimpa gunmen suspended
Beas firing: 4 others also pay for 'negligence of duty/involvement'
Beas, February 2
On the recommendation of the Special Investigation Team (SIT), the district police chief, Majitha, Mr Lok Nath Angra, has reportedly placed eight constables, including four gunmen of Mr Jasbir Singh Dimpa, Congress MLA, under suspension for "negligence of duty or their involvement" in the recent firing incident here.
CAST YOUR VOTE
Has Tata paid the right price for Corus?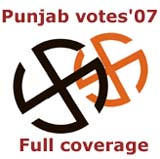 ADVERTISEMENT


CHANDIGARH

LUDHIANA

JALANDHAR
New

DELHI

HIMACHAL PLUS
New

AMRITSAR PLUS

LIFESTYLE
New

BRIDES WANTED

GROOMS WANTED

OTHERS

HOW TO PLACE ADVTS
In Sports Tribune today
EC warns Sukhbir
New Delhi, February 2
The Election Commission has taken umbrage to the violation of the Model Code of Conduct by Shiromani Akali Dal leader Sukhbir Badal and 10 others belonging to different parties.

Dhruv co-pilot dies in pre-aero show crash
Bangalore, February 2
The Indian Air Force's (IAF) acrobatic team "Sarang" suffered a setback following a crash during rehearsals for the forthcoming Aero India show resulting in the death of a co-pilot of a Dhruv advanced light helicopter (ALH) today morning.



Nation page: HAL bent on Dhruv despite design flaws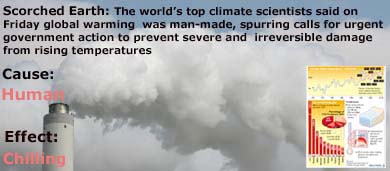 A smokestack is seen at a thermal power plant in Inchon, west of Seoul. The Intergovernmental Panel on Climate Change, which draws on research by 2,500 scientists from more than 130 countries, has spoken of a big rise in temperatures this century and warns of more heatwaves, floods, droughts and rising sea levels linked to greenhouse gases released mainly by the use of fossil fuels. — Reuters (Details on World page)

Chandigarh page: Tributes paid to Sardar Dyal Singh Majithia




India: The Tasks Ahead
SPECIAL SUPPLEMENT
125TH ANNIVERSARY CELEBRATIONS,
INAUGURAL SESSION



In Amritsar Plus today
HOROSCOPE
NC to boycott meeting with Centre's panel
Jammu, February 2
The National Conference (NC), the main Opposition party in the state, has decided to boycott the meeting of the Working Group on Kashmir (KWG) on Centre-state relations here tomorrow to register the party's protest over the "spurt" in incidents of human rights violation in Kashmir.
Second body exhumed
Srinagar, February 2
The police today fired shots in the air and teargas shells to prevent an agitated massive crowd from entering a graveyard at Ganderbal where a special investigation team (SIT) of the Jammu and Kashmir police had gone to exhume a body of a missing person.
(Details on J&K page)

Bibi style — Notes & votes
Bholath, February 2


It's raining money on Bibi Jagir Kaur these days. She steps out of her dera to garner votes every morning and returns richer by several lakhs each night. No wonder in Bholath, the constituency she has represented twice, she is known as a 'note and a vote catcher.'

E - Revolution 2005:
A Two-day IT conclave

Assembly Elections - 2005

Turbans

Chandigarh is 50

EARLIER FEATURES
Ordinance route for live action
February 2, 2007

Chorus in Tataland
February 1, 2007

Dimpa led attack, Rajan fired AK-47: SAD
January 31, 2007
Akali, Congress workers clash
January 30, 2007
Fresh clashes in Singur
January 29, 2007
No pension funds for stocks, says EPF board
January 28, 2007
India, Russia for axis with China
January 26, 2007
Fifth Gen combat aircraft in Putin's sales bag
January 25, 2007
It's Sidhu vs Singla
January 24, 2007
SRE-1 brought home
January 23, 2007