NGO to create awareness about smoking ban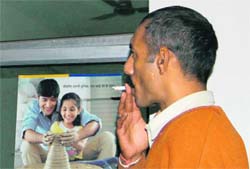 Hamirpur, January 20
Though almost a year has passed since the Centre imposed a ban on smoking at public places, if one goes by the practice in places like Hamirpur, it seems the ban has no effect here. In the provision, the Central government has entrusted the job of implementing the ban to the state governments through its agencies

A man smokes at a public place in Hamirpur. Tribune photo: Dharam Prakash Gupta
Weeds take over grasslands in state
Dharamsala, January 20
Weeds are fast taking over grasslands and the open areas in the state where just about 11 per cent land is under agriculture. The open areas have provided ideal conditions for weeds to flourish, thus posing a threat to the health of humans and animals.

vignettes
Henry Irwin
A 'productive' architect
Henry Irwin, the architect who designed several buildings at different stations in India, was the superintendent of works in Shimla from 1881 to 1888 and had dotted the map of the town with awe-inspiring, now heritage, buildings. He was not only skilled in designing buildings but was also apt in producing children. Let us delve into his second quality first and then grace him with what he did for Shimla.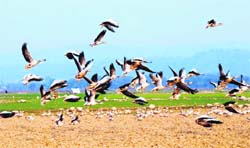 Migratory birds in the fields along the Pong Dam wetland area at Nagrota Surian. Tribune photo: Amit Sharma
Runway extension gathers dust
Kullu, January 20
The proposal for the extension of the Kullu-Manali airport runway at Bhuntar, about 10 km from here, has been gathering dust due to the dearth of political will. Plans were approved in this regard during 2002. The Indian Institute of Technology (IIT), Roorkee, which has been given the responsibility to examine the feasibility of the extension,has submitted its survey report to the Himachal Pradesh government.
Academy to publish book on Chamba artists
Chamba, January 20
The Prabal Pramanik's Academy of Arts, Bhamlada in Gurdaspur district of Punjab, has undertaken a project on Chamba under its heritage wing. In a seminar on cultural integration and co-ordination held at Bhuri Singh Museum recently, it was declared that a book on 20 local creative artists titled, "From the Chamba Hills" would be published shortly. A comprehensive art documentary on these people would also be produced.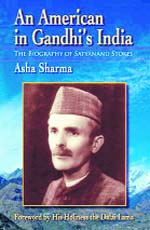 Samuel Evans Stokes transformed lives of hill folk
Shimla: The story of Samuel Evans Stokes who transformed the lives of people of Shimla hills by introducing delicious apple varieties from America is making waves in his homeland these days. The man from Philadelphia, who made India his home, embraced Hinduism and played an active part in the freedom struggle, has been reintroduced in his native country by his granddaughter Asha Sharma through her book "An American in Gandhi's India".


The book, " An American in Gandhi's India", released in the USA recently.
Inter-state border under police scanner
Nurpur, January 20
In order to keep a strict vigil on the activities of anti-social elements in bordering Nurpur subdivision, the Kangra district police has ordered the setting up of a chowki and a barrier at Kandwal, the inter-state barrier.
Move to restore Himalayan ayurvedic supremacy
Mandi, January 20
Young ayurvedic doctors from Mandi, Dr GS Dehal and his team of experts, have dreamt of restoring the Himalayan ayurvedic supremacy in the state.
shimla diary
Theatre as therapy to transform prisoners' lives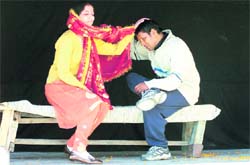 The month-long workshop on theatre organised under the aegis of the Delhi Kala Karam at the local Kaithu Jail not only brought out the hidden artistic talent in the inmates but also provided a peep into their thoughts, feelings and emotions. While almost all 30-odd imnates who participated in the Bhishm Sahani's famous play "Muabje" felt that involvement in theatre activity provided relief from mental tension

A scene from the play, "Muabje", staged by undertrials in Kaithu jail.