PUNJAB
HARYANA
JAMMU & KASHMIR
HIMACHAL
REGIONAL BRIEFS
NATION
OPINIONS
LETTERS
BUSINESS
SPORTS
WORLD
Friday, May 28, 2010, Chandigarh, India
Updated at 3:00 am (IST)

AI limps back to normalcy
n 42 more employees sacked
n Fresh strike call from June 12
New Delhi, May 27
The Air India employees' strike has ended and air operations are limping back to normalcy, but all is still not well with Air India. The employees' strike, which was smashed to bits by the government's tough talk and an order by the Delhi High Court yesterday, has now acquired political hues.
India-Canada visa row intensifies
New Delhi, May 27
The denial of visas to several serving and retired officials of Indian security agencies by Canada is turning into a major row between India and Canada ahead of Prime Minister Manmohan Singh's visit to Toronto for the G-20 Summit in June.


Canadian authorities denied decorated cop visa twice
CAST YOUR VOTE
Should the execution of Ajmal Kasab's death sentence be put on fast track?

EDUCATION
JOBS & CAREERS
HEALTH & FITNESS
SCIENCE & TECHNOLOGY
REAL ESTATE
SPORTS & WELLNESS
UNSC Seat
China backs India's aspirations
Beijing, May 27
Skirting contentious issues, visiting President Pratibha Patil today held discussions with the top Chinese leadership which supported India's aspirations of becoming a permanent member of the UN Security Council, a stand welcomed by the Indian side.
President Pratibha Patil inspects guard of honour during a welcome ceremony inside the Great Hall of the People in Beijing on Thursday. — Reuters
32.4°: Shimla hottest in 170 yrs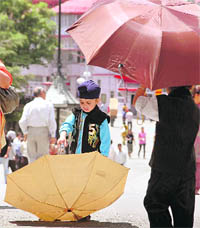 Shimla, May 27
The soaring mercury beat all available records to make today the hottest day in the Queen of the Hills in 170 years. As the temperature climbed to 32.4° C, tourists who were here for a summer sojourn from the plains sweated it out under the scorching sun.

Umbrellas came out as the day temperature soared in Shimla on Thursday. Photo: Amit Kanwar.

UNION BUDGET 2010-11
RAILWAY BUDGET
2010-11
NDA 60 Glorious Years
1857 The First Challenge
E - Revolution 2005:
A Two-day IT conclave
Assembly Elections - 2005
Turbans
Chandigarh is 50
125 Years of The Tribune
India: The Tasks Ahead
India at Sixty
A Tribune Supplement
EARLIER FEATURES
On Sundays
On Saturdays
Near-miss at Mumbai airport
Mumbai, May 27
A major mishap was averted at the city airport after an Indigo aircraft entered the runway instead of turning into the taxiway. The IndiGo aircraft, as per ATC instructions, was supposed to turn into the taxiway. However, it entered the runway, a Mumbai International Airport, statement said today.
The Last Word
Laxmi Kanta Chawla
Lady with the Lamp — and Broom
She is a third-term legislator who claims she is not a politician, a minister who does not entertain "favour-seekers". She knows Punjabi, but does not use it officially. Punjab Health Minister Laxmi Kanta Chawla is someone who is difficult to fit into any slot. A Toyota Camry may have replaced a bicycle she rode 50 years ago, but her simple, even spartan, lifestyle is as widely talked about as it is not emulated.
Soaring gold prices fail to dampen investors
Chandigarh, May 27
The zooming price of gold has not deterred investors from investing in the yellow metal. Rather, gold is becoming a favourite investment option not just for high net worth individuals (HNIs) and smart global investors but also for senior citizens. The price of gold has gone up by almost Rs 2,500 per 10 gram in the past three months. From being traded at Rs 16,020 per 10 gram in February this year, the price touched Rs 18,625 per 10 gram in the bullion market today.
Air India strike off, 15 union members sacked
May 27, 2010
Rathore arrested, sent to jail
May 26, 2010
Good ties with Pak to benefit India: PM
May 25, 2010
Time for Re-alliance
May 24, 2010
Mangalore air crash kills 158
May 23, 2010
Miles to go
May 22, 2010
Won't quit, won't share power: Soren
May 21, 2010
The 3G bonanza
May 20, 2010
It's musical chairs in Jharkhand
May 19, 2010
Dantewada again, toll 36
May 18, 2010