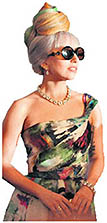 Popstar Lady Gaga

Hollywood hooked
The "East is East..." refrain of Rudyard Kipling hardly holds today — what with Lady Gaga rocking the Indian Grand Prix and Shakira shaking a leg at a bash in India. To add sizzle to the Indian winter, Jennifer Lopez will join rapper PitBull on his India tour. Vimla Patil looks at what drives this business between Bollywood and Hollywood
EVEN a cursory check of the current scenario shows how superfast technology and quick travel have brought massive business and cultural communities together to change and reinvent traditional tastes of all the 'people out there' — the aam aadmis — who are downloading videos of western and Indian hit songs and dancing to the music created by Bollywood's never-tiring item song-creating mills. Today, fame and glamour have no colour, nationality or boundaries.

From Simla to Shimla
The hills of Shimla have been transformed into a concrete jungle. Several landmark buildings have been consumed by fires, while the faces of others have been altered beyond recognition, writes Rakesh Lohumi
Acclaimed as the most British of Indian towns, Shimla has over the years lost much of its imperial grandeur and scenic splendour. The transition from Simla to Shimla, as it is spelled now, has come at a heavy price.
Crafting beauty
Surgeons are reshaping the natural contours of the body and helping to improve the areas found unattractive, says Ratika Sarin
TiME was when people despaired over their protruding belly or misaligned teeth or even a crooked nose whenever they looked into a mirror. Not any more. Sociologists say that a combination of peer pressure and advancement in medical science is tempting young people to experiment with their natural looks to overcome their physical aberrations.
Credit cards beat cash
When it comes to fun shopping, people prefer to use plastic money
Consumers purchase interesting products with credit and boring products with cash, a new study, including an Indian-origin researcher, has revealed. People who pay cash focus on different aspects of products than people who use credit cards, the report said.
Following the sound of music
Ranjita Biswas visits Salzburg, birthplace of Mozart. Situated on River Salzbach, the city is as famous for its beauty as its world-famous musical great
TWO films, Sound of Music and Oscar winning Amadeus, based on musical genius Mozart, have represented the spirit of Salzburg. After all, this beautiful city at the foothills of the Austrian Alps had been the setting for both the famous films.
Social media a popular business tool
FOR 15-year old Shraddha Sharma, uploading videos on Youtube was just another way to appease a friend who was unhappy with her. But little did the Dehradun-based girl know that she would soon be the online singing sensation of India within weeks!
Liz Taylor memorabilia
MORE than 950 items belonging to Elizabeth Taylor, including jewellery, clothes, shoes and pieces of art, will be put up for sale in Christie's first solely online auction.
'The Dirty Picture is not vulgar'
Surekha Kadapa Bose chats up Vidya Balan about her latest film, which is a biopic on the life of South Indian siren Silk Smitha
FrOm the shy, conservative Parineeta to a woman, who celebrates her sexuality in The Dirty Picture, Vidya Balan has come a long way. An actor who has worked with veterans like Amitabh Bachchan, Naseeruddin Shah, Sanjay Dutt, Vidya feels she still has a long way to go and says that it's her acting prowess, which makes directors cast her for unconventional roles she has essayed so far.
Sherlock Holmes sequel a 'bromance'
Robert Downey Jr. and Jude Law have guaranteed that Sherlock Holmes: A Game of Shadows will delve deeper into the "bromance" between Sherlock Holmes and Dr. Watson.