LIFE+STYLE

CHANDIGARH

LUDHIANA

BATHINDA

JALANDHAR

AMRITSAR TRIBUNE

JALANDHAR TRIBUNE

BATHINDA TRIBUNE

JAMMU TRIBUNE

KASHMIR TRIBUNE

DELHI

DEHRADUN

DEHRADUN PLUS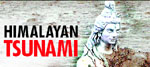 We will evacuate the last survivor, says Army Chief
Joshimath/Gobind Ghat, June 28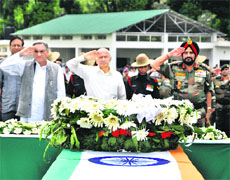 All pilgrims stranded at Badrinath will be evacuated using a trekking route or helicopters by tomorrow, or at best by Sunday morning. The airlifted will be brought to Gauchar or Joshimath, while the pilgrims opting to trek will be ferried in vehicles Gobind Ghat onwards.
Home Minister Sushilkumar Shinde (C), Uttarakhand CM Vijay Bahuguna (L) and Army Chief General Bikram Singh pay tribute to the men killed in Tuesday's copter crash, in Dehradun on Friday.


Don't force people to walk long distances, SC tells U'khand
(Details On NATION page)
Special to the tribune
US Senate bill to affect Indian firms
The United States Senate on Thursday passed a comprehensive immigration reform legislation that includes a path to citizenship for an estimated 11 million undocumented immigrants and, worryingly for the Indian tech sector, places restrictions on companies that depend on skilled foreign workers.
Talks with Pak once Nawaz settles down: Khurshid
Srinagar, June 28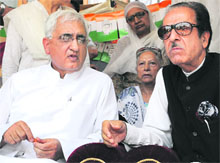 External Affairs Minister Salman Khurshid today said talks with Pakistan will resume once Nawaz Sharif "settles down" as Prime Minister. He regretted the fact that the Indo-Pak dialogue process had suffered a setback in the past.
External Affairs Minister Salman Khurshid with JK Congress chief Saifuddin Soz in Srinagar on Friday. A Tribune photo

OTHER PAGES

HARYANA: Retired 'blue-eyed' babus call shots


HIMACHAL: Virbhadra meets PM for Rs 1,000 cr aid


CHANDIGARH: Veggie prices go through the roof


LUDHIANA: Dera followers' protest hits life


DELHI: Pay high tariff if you use AC, Dikshit chides Kejriwal

Business: Sensex zooms 520 points; RIL, ONGC lead the rally

OPINIONS: It is not all that gas


NATION: Central health team, IAF to stay back after rescue op


SPORTS: Brits on cloud nine as Murray, Robson win

WORLD: Russia accuses US of putting it in 'tough spot' over Snowden


The tribune guide to best colleges

Budget
2013-14

INDIA CHINA WAR 50 YEAR LATER

YEAREND SPECIAL: 2012

Year of survival

The tribune 130 years
a witness to history
book released by prime minister manmohan singh

Guide to best colleges

Results of Punjab Assembly Polls 2012

HIMACHAL VOTES 2012

EARLIER FEATURES

Attack on Salem: Cops suspended, probe ordered
Mumbai, June 28
The Maharashtra Government has ordered a probe into the alleged attack on gangster Abu Salem inside the Taloja Jail, where he is lodged. "The Additional Director General of Jails will conduct the inquiry. Those responsible for the lapse in security will face action," Home Minister RR Patil said today.
(Details On NATION page)
Russia accuses US of putting it in 'tough spot' over Snowden
Moscow, June 28
Russia today accused the United States of putting it in a "tough spot", claiming Washington never disclosed that it had revoked the travel passport of fugitive US intelligence leaker Edward Snowden.
(Details On WORLD page)
16 new trains to chug into northern states this fiscal
Chandigarh, June 28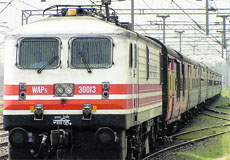 The stage is set to connect the region with the rest of the country as the railways starts 16 new trains by the end of this financial year.


A train approaches the Chandigarh railway station. File photo


Cabinet go-ahead for CBI autonomy
June 28, 2013
PM, Sonia flag off first train to Kashmir Valley
June 27, 2013
Manmohan, Sonia in J-K vow to fight terror
June 26, 2013
Militants strike again, kill 8 jawans in Valley
June 25, 2013
Rescue efforts gather pace
June 24, 2013
1,000 dead; rescuers focus on Badrinath
June 23, 2013
Uttarakhand death toll 550, 48 bodies found in Haridwar
June 22, 2013
Toll may be in several hundreds: U'khand CM
June 21, 2013
Toll touches 150, hundreds missing
June 20, 2013
Rain fury: 131 dead, 500 missing
June 19, 2013
PM inducts 8 ministers; Kharge gets Railways
June 18, 2013
JD(U) parts ways with BJP
June 17, 2013