PUNJAB
HARYANA
JAMMU & KASHMIR
HIMACHAL
REGIONAL BRIEFS
NATION
OPINIONS
LETTERS
BUSINESS
SPORTS
WORLD
Thursday, May 20, 2010, Chandigarh, India
Updated at 3:00 am (IST)

The 3G bonanza
n Govt mops up over Rs 67,000 cr from auction n No firm gets all-India licence n RCom, Bharti bag 13 circles n Bharti loses Punjab, Haryana
New Delhi, May 19
The Congress-led UPA government got a fabulous first anniversary gift as the auction for the third generation (3G) spectrum ended today, leaving the Finance Ministry richer by over Rs 67,000 crore.


faqs

Industry fears hike in mobile tariff
'Talks with Pak to reduce distrust'
Chandigarh, May 19


Tasked with the most important but unenviable task of resuming the dialogue with Pakistan, India's External Affairs Minister S.M. Krishna believes the challenge lies in reducing the trust deficit between the two countries. Krishna will be paying his maiden visit to Islamabad on July 15 to talk to his counterpart Foreign Minister Shah Mehmood Qureshi. In an exclusive interview to The Tribune Editor-in-Chief Raj Chengappa, India's External Affairs Minister said: "There is total distrust between the two countries. So we will have to attack the trust deficit first. The central theme of my visit is to make an effort to reduce the trust deficit and even eliminate it. I think if we succeed, something would be achieved."


SM Krishna Interview on Opinions page
CAST YOUR VOTE
Should the execution of Ajmal Kasab's death sentence be put on fast track?

EDUCATION
JOBS & CAREERS
HEALTH & FITNESS
SCIENCE & TECHNOLOGY
REAL ESTATE

SPORTS & WELLNESS
280 fishermen missing as Laila batters Tamil Nadu coast
Rameswaram (TN), May 19
As many as 140 boats anchored along Mandapam coast in Ramanathapuram district were damaged in strong winds triggered by cyclonic storm Laila even as 20 of the 300 fishermen reported missing returned to shore from Katchathivu island, officials said.


Laila: Thousands evacuated in Andhra

May impact western coast
Chhattisgarh CM hints at Naxal link with Lashkar
New Delhi, May 19
Describing Naxals as "biggest terrorists", Chhattisgarh Chief Minister Raman Singh today hinted at some connection between Pakistan-based terrorist group Lashkar-e-Toiba (LeT) and the Maoists.


Nation page: CRPF patrol van blown up; 4 dead
UNION BUDGET 2010-11
RAILWAY BUDGET
2010-11
NDA 60 Glorious Years
1857 The First Challenge
E - Revolution 2005:
A Two-day IT conclave
Assembly Elections - 2005
Turbans
Chandigarh is 50
125 Years of The Tribune
India: The Tasks Ahead
India at Sixty
A Tribune Supplement
EARLIER FEATURES
On Sundays
On Saturdays
Pak bans Facebook over Prophet cartoons
Islamabad, May 19
The Pakistan government today directed all Internet service providers to block Facebook in line with the Lahore High Court's order to temporarily cut off access to it over a page encouraging users to post caricatures of the Prophet Mohammed on the popular social networking site.
Pak delegation wants easing of visa rules
New Delhi, May 19
A delegation of Pakistani industrialists and mediapersons today acknowledged that there were numerous hurdles in the way to a stable and peaceful relation between India and Pakistan and said both countries could take several uncontroversial initiatives to give a fillip to engagement between two neighbours.


ICSE students outperform CBSE's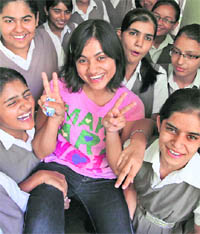 Chandigarh, May 19
The CBSE today declared the Class XII results for Ajmer, Panchkula and Chennai regions. While 77.7 per cent students passed the examination in Panchkula, 95 per cent students cleared the exam in the Ajmer region. The highest percentage in the Chennai region is 92.78 per cent.
Saloni Singh (C) of DAV Public School, Panchkula, topped in arts stream of CBSE Class XII on Wednesday. Tribune photo: Manoj Mahajan

It's musical chairs in Jharkhand
May 19, 2010

Dantewada again, toll 36
May 18, 2010

Bangkok bleeds
May 17, 2010

Jihadis camping in PoK to sneak into India
May 16, 2010

3 Pakistani aides of NY bomb plotter held
May 15, 2010

Centre clears decks for first defence varsity
May 14, 2010

India should not hold talks with Pak: BJP chief
May 13, 2010
Krishna to visit Pak
May 12, 2010
Higher Education Bill hits a bump
May 11, 2010
Chhattisgarh forests death traps: Police
May 10, 2010