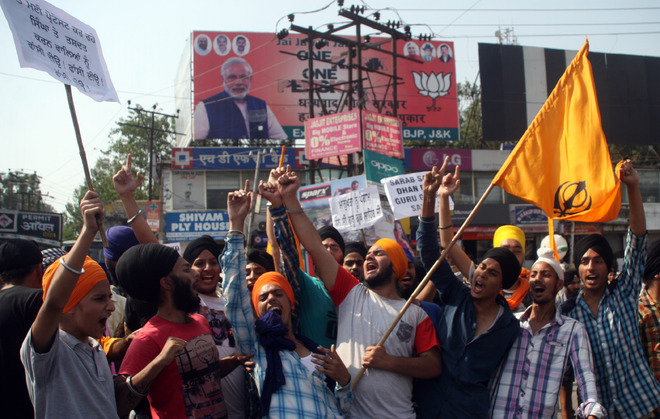 Tribune News Service
Srinagar/Jammu, October 17
Various Sikh bodies today protested across the state against the desecration of Guru Granth Sahib, the holy book of Sikhs, in neighbouring Punjab.
Dozens of Sikh activists and members belonging to various Valley-based Sikh groups, including Shiromani Gurdwara Parbandhak Committee (SGPC), Srinagar, and Gurmat Taksal, J&K, today demonstrated in Srinagar against the desecration of Guru Granth Sahib and the handling of the situation by the Punjab Government.
The protest in the Lal Chowk area was organised to "express" anguish and concern of the Kashmiri Sikhs against the desecration of Guru Granth Sahib, protesters said.
Whereas in Jammu, Sikhs, led by J&K Gurdwara Parbandhak Board president Tarlochan Singh Wazir, took out a procession from Nanak Nagar Gurdwara and culminated at the Satwari crossing.
"Our protest was aimed at conveying the hurt of Kashmiri Sikhs over the desecration of Guru Granth Sahib," SGPC Srinagar secretary Navtej Singh, who also participated in the protest, said.
He said "various anti-social and communal elements" were "determined to suppress the religious rights of the minorities in the country" and blamed these elements for what was happening in Punjab.
In a statement, the SGPC Srinagar president Budha Singh appealed to "Sikh community not to let unscrupulous elements disturb communal harmony for murky vote bank politics".
"The acts of the Punjab Government, which is responsible for the killing of two youths in Kotkapura, Punjab, are highly condemnable," Budha said in his statement, while also terming the "tearing of pages of Holy Guru Granth Sahib" as highly outrageous.
The protesters in Jammu were holding placards and banners against culprits demanding stern action against them. The protesters asked the Punjab Government to identify culprits and ensure that capital punishment was given to the guilty.
They also raised slogans against the Akali-BJP coalition government of Punjab and Union Government and held them responsible for the episode.
Top News
Lalpura first Sikh to find place on party's parliamentary bo...
Next hearing on August 22
2019 study says Delhi, Kolkata most polluted | Bad air kills...