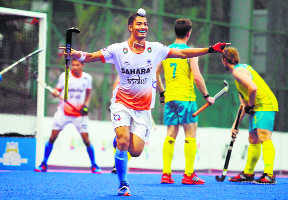 Indervir Grewal
"The day you can tie your hair on your own, I will take you along," Balwinder Singh had told his young son who insisted on accompanying his father to Amritsar. "When I became the coach of Maharaja Ranjit Singh Hockey Academy in Amritsar, he told his mother 'I want to go with dad'," added Balwinder, who belongs to Butala village, about 50km from Amritsar.
"I told him he was too young but he wouldn't listen. So I had to convince him like this; he had very long hair," Balwinder laughed.
Dilpreet Singh, around seven then, had to wait for over four years to join his father at the Amritsar academy. "When he was in Class 6, I brought him to the academy," said Balwinder, who is retired from the Army. Since then, Dilpreet has not had to wait much to realise his hockey dreams. Within a couple of years, he graduated to Jalandhar's Surjit Academy, arguably Punjab's top hockey centre. At 16, the talented forward made his international debut, at the U-18 Asia Cup, and instantly impressed everyone with his goal-scoring ability.
The progression to India U-21 didn't take long. In last year's Sultan of Johor Cup, Dilpreet scored nine goals to finish as the tournament's top-scorer.
The performance earned him a spot in the senior India camp, and an impressed team management gave Dilpreet his senior India break in the four-nation tournament in New Zealand.
His show in New Zealand caught coach Sjoerd Marijne's attention. "He played more matches in New Zealand, and when you can score against Belgium (world No. 3), you can do it against every country," Marijne said about Dilpreet. "He is a striker who scores easily and has good basic skills. Besides, he has a good overview about what is necessary to play give and go (hockey)," the Dutchman added.
'Gifted'
Dilpreet's hockey journey began as a three-year-old when his father would take him along to the village ground. "I would take him along when I went for my training," said Balwinder, a former national-level hockey player. "He started enjoying the game."
Back then, Balwinder had not thought about hockey as a career for his son. But Dilpreet's unwillingness to study led Balwinder to push him into sports. "He didn't study, was a mischievous kid in school. But when I put him hockey, he showed exceptional talent. He was gifted," Balwinder added.
"Despite being the youngest in the team, he was named the best player in various tournaments," he added. However, Avtar Singh, coach at Surjit Academy, said that due to his exceptional talent, Dilpreet had an attitude problem initially.
"He was always good at scoring. But when he came to us, he was a selfish player. I guess it can happen with players with such talent," said Avtar.
His attitude almost cost him a spot in the senior national camp. But his uncanny goal-scoring ability and willingness to learn from the seniors persuaded the team management to give him a shot.
The result: just five months after making his junior India debut, the 18-year-old, the second youngest member of the team, is all set to represent India in the Commonwealth Games. Though "a huge opportunity" as Dilpreet expressed without showing much emotion, it took some time for the realisation to hit the teenager. "I had called him to ask if the team was announced and he told me he was in. I asked him 'why don't you sound happy'," Balwinder said. "He is not one to blow his own trumpet. However, recently when he called us from Australia, telling us about the place, he sounded really excited."