Sunday, October 7, 2007, Chandigarh, India
Updated at 3:00 am (IST)

Mush sweeps poll; it is up to court now
Pakistan's military ruler Gen. Pervez Musharraf on Friday won, virtually uncontested, the controversial presidential election that was boycotted by all opposition parties. The election was held under an embargo imposed by the Supreme Court on official announcement of the result till its final order on petitions challenging his eligibility to contest in uniform.



PPP boycott a blow for Pervez


Process to restore civilian rule completed: Mush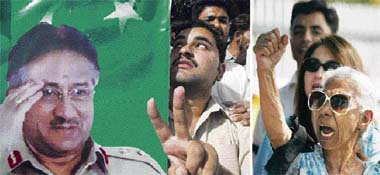 Supporters of Pakistan President Pervez Musharraf rally outside the Parliament building during the presidential election in Islamabad on Saturday. (Right) Human rights activists protest against the president who won a landslide victory. — AFP photo
Tribune Special
Handling of ivory stocks in dark
New Delhi, October 6
Ivory or white gold, the most sought after asset of a tusker, is not burnt in India after its death. It becomes government property and is stocked in godowns run by state wildlife departments.