BOLLYWOOD BATTLES WITH THE TREND OF LEWD LYRICS AND REMIXING OF HIT SONGS
Jyothi Venkatesh


| | |
| --- | --- |
| THE current trend of bold and lewd lyrics in flicks like Dum Maaro Dum and Chalo Dilli is not something new to Bollywood. Nevertheless, the latest spate of risqué lyrics like Pyaar Do Pyaar Lo (Thank You), Dum Maaro Dum (DMD), Laila o Laila (Chalo Dilli) and Saali Bitchby singer Ishq Bector has left eyebrows raised and made purists squirm in their seats, some even openly voicing staunch disapproval for such obscene songs. | |
When music meets history
With five and a half acres of facility at Qila Sarai in Sultanpur Lodhi to be soon converted into a music academy, the dilapidated building is going to reverberate with musical notes, writes Vandana Shukla
MANY caravans have passed by it. The crumbling walls of Qila Sarai in Sultanpur Lodhi, Punjab, have been a witness to a long march of history. In the process, it acquired a strange coinage for its name — a sarai and a qila. And it adapted to varied roles in the process of history. As the name itself suggests, the sarai served the tired travellers in the past, who would stay over for a while to rest.
Glories of Golden City
From sand dunes to exquisitely carved havelis, the desert city of Jaisalmer has something for everyone, writes Sudhamahi Regunathan
Jaisalmer may be a surprise package to showcase as a destination in the summer. But then every season has its own charms. The heart of the Indian desert in Rajasthan may turn on the heat but do pack a light shawl as evenings may be treacherous. So, don't even try to venture out during the day.
Different strokes
Pallab Bhattacharya brings out the artistic side of a seasoned bureaucrat
SHE may have been a hardnosed bureaucrat for close to four decades going through the stress of work in key positions but the artist in Sudha Pillai, an IAS officer, has always remained alive, drawing landscapes, faces of women and much more.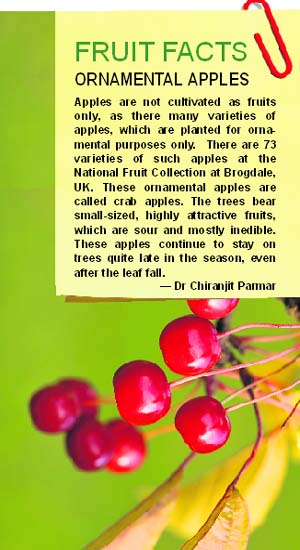 Play acting
Darren Aronofsky's Black Swan required rigorous training for the two main actresses prior to the shooting. Shoma A. Chatterji checks out examples of performance cinema in the Indian perspective
THE 'ooh's and aah's about Oscar-winning performance of Natalie Portman in Black Swan are yet to subside. Though a trained dancer, performing as a prima ballerina in the film was a different ball game for Portman.
Now, Sholay in 3D
Filmmaker Subhash Ghai will convert Ramesh Sippy's 1975 classic film Sholay in 3D format. Ghai's banner Mukta Arts has collaborated with filmmaker Ketan Mehta's Maya Digital to undertake the project of turning Sholay in 3D.
Films are a powerful medium: Nandita Das
Dibyojyoti Baksi
WHY do people want to ban films and books? Because these have the power to affect the subconscious, however subtly, believes actor-director Nandita Das, who has won national and international awards for her socially relevant films.
Eco-friendly lingerie
WITH Earth Day celebrated recently, a leading retailer in the UK has already gifted shoppers an eco-lingerie range. Marks and Spencer has made 'going green' even easier as it has launched the world's first ever carbon-neutral bra in the UK market, reports the Daily Mail.
SOCIETY
Faith and tradition
In certain hilly areas of Jammu, trees are worshipped. They are believed to be resorts of gods and ancestral spirits. Not a branch can be cut without performing proper rituals, writes Suraj Saraf
THERE are frequent references to devaranyas (sacred forests) and chaityavrikshas (sacred trees) in ancient Indian scriptures. Indian epic literature had strictly laid down that not even a leaf of the chaityavrikshas be destroyed because these leaves are resorts of gods, yakshas, nagas, apsaras and ancestral spirits.
Dress with feminine charm
The skirt is the best outfit. It does not cling to your body. Neither does it show off your curves, says Banalata Bipani
IT is conceded that no fashion talk involving outfits will be complete without mentioning skirts. In fact, you can concede that skirts are for a woman, when a trouser means to a man. After a dress, the skirt is the second best woman outfit for its feminine charm, easy to wash and maintain, and above all it is not at all complicated.
From jeans to pyjama-jeans
THERE is something new this season that would make you dump all your regular pants. It is called pyjama-jeans, a sweatpant jean hybrid, whose infomercial has racked up more than 500,000 views on YouTube. According to Pajama Jeans. com, this comfortable wear is made with "DormiSoft" fabric, a propriety blend of cotton and spandex.