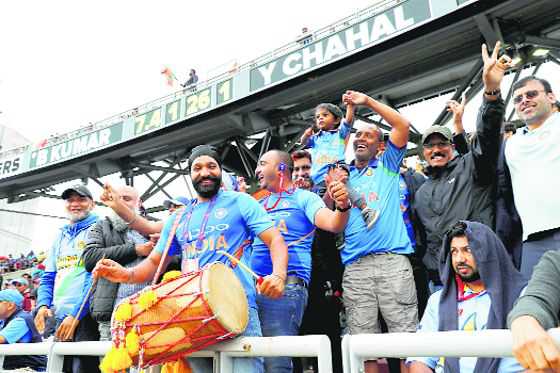 sanjiv@tribunemail.com
Rohit Mahajan
Tribune News Service
London, July 17
The Subcontinentals swamped cricket grounds at the World Cup.
Eoin Morgan, the England captain, knew that the home team would have little support when India played them in Manchester on June 30. "I sort of recall the Champions Trophy final (in 2013) that we played against India at Edgbaston. It was like an away game," Morgan said. "Again, we have a number of fans in the ground, but just the noise that the Indian fans make with their horns and different things makes it that much louder. So, yeah, tomorrow is going to feel like an away game."
He was right, it did feel like an India home game, though England easily won that one. In the final, also won by England, south Asian fans were in full force.
Looking at the Indian and Subcontinental faces, hearing the languages spoken in the crowd during the World Cup, you'd imagine that they're drawn to cricket on their own, and don't need an action plan to be attracted to the sport. Yet, the England and Wales Cricket Board (ECB) is trying its hardest to get people from south Asia to get more involved with the sport in the country.
Continental Divide
There's a problem — south Asians support the teams from where they come from, they don't support cricket. Indians call cricket a religion, as do the Pakistanis, yet there is none of them supporting the game at the county level, and very few of them come to watch the thrilling Ashes encounters.
English cricketers have felt frustration due to this. Jonathan Agnew, the former England and Leicestershire fast bowler, once mentioned this to this writer. Leicester, where the Leicestershire county team is based, is an ethnically diverse city — according to the 2011 census, 45.06% of the city's population is White British; Asians/British Asians comprise a whopping 37.13% of the population. Agnew noted that there was some irritation among the cricketers in his time (1970s-80s) that Indian fans flooded the Leicester ground when the Indian team came visiting, yet were completely disinterested when Leicestershire or England played there. That gap remains — Indians make up only 2% of the attendance at county matches. ECB is trying to bridge this gap, with an action plan called 'Engaging South Asian Communities'.
ECB push
The man leading the push for greater participation of south Asians in English cricket is Vikram Banerjee, Director (Strategy) at ECB.
Banerjee notes that, in fact, south Asians are over-represented in cricket. "People from India, Pakistan, Bangladesh, Afghanistan, Sri Lanka and Nepal make up around 6% of the country's population," says Banerjee. "Yet, they make up around 30% of the cricket-playing population."
This segment (excepting Nepal) supports countries of their origin when they play in England. ECB's challenge is twofold: One, make them more involved in English cricket; and two, get them to go on and play for the counties and then England. "So, if 30% of our club and recreational cricketers are coming from these backgrounds, how can we support them to create more Moeen Alis, Adil Rashids or Isha Guhas, that's the question," says Banerjee.
Another focus is on attendance. For the World Cup, some 325,000 tickets were sold to people from south Asian backgrounds. "They want to follow cricket, they want to come. What can we do more at the domestic point of view, to encourage them to support T20 Blast or County Championships or Test cricket?" says Banerjee. "That's another big focus."
Banerjee, a former cricketer himself, says that ECB is very interested in getting more south Asians in the culture of sport — in different roles such as playing, coaching, volunteering and administration.
Action Plan
"I've been to a cricket ground, in November, where they cleared the pitch of snow before they played the game," says Banerjee, talking about the passion of south Asians for cricket. Thus, ECB will be building a number of indoor cricket centres, in the most diverse communities.
ECB is also going to mosques and temples and gurdwaras, where south Asian people generally congregate, to engage with them. "The core principle was that if you want to play cricket, you come to us - the communities must come to us," says Banerjee. "But with these mosques and temples, there are community centres and schools and sports halls… So we thought why can't we support them there?"
So they take along the cricket gear with them to temples and mosques. At the Neasden temple near Wembley, they had a women's only session, and were "pleasantly surprised" as it was oversubscribed. "We had to turn away some women," he said. "It's not great, but it's great to see the interest and the passion for the sport."
The same happened at the London Central Mosque.
Integration
Banerjee believes that a useful effect of the action plan would be assimilation of people of diverse backgrounds in the English society. "The power that sport has, the unique power that cricket has within sport for the south Asian community is huge," he said. "Our remit, no doubt, is primarily to grow the game. You have more people picking up a bat and a ball, falling in love with this great sport. Within that we have an opportunity, a privilege, to help society connect better."
All readers are invited to post comments responsibly. Any messages with foul language or inciting hatred will be deleted. Comments with all capital letters will also be deleted. Readers are encouraged to flag the comments they feel are inappropriate. The views expressed in the Comments section are of the individuals writing the post. The Tribune does not endorse or support the views in these posts in any manner.
Top Stories