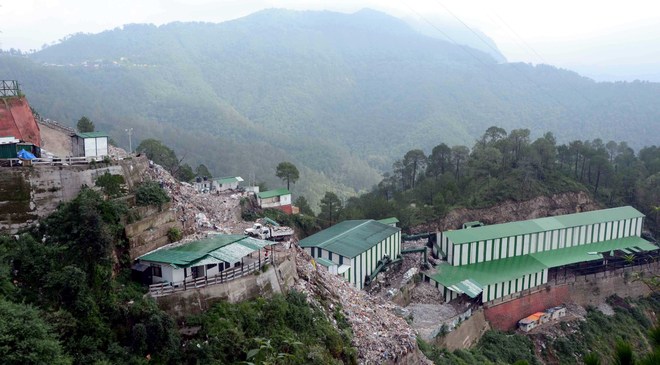 Kuldeep Chauhan
Tribune News Service
Shimla, October 28
Pulled up by the National Green Tribunal (NGT) over the messy solid waste management in the capital, the fund-starved Shimla Municipal Corporation (SMC) has zeroed in on the Rs 42 crore "waste to green energy" project at Bariyal out of the three proposals it has received from private players to treat 70 tonnes of solid waste that the city generates everyday.
But the state government has to take the final call as it has to sign a power purchase agreement (PPA) with the company to buy electricity that the plant will generate everyday. As per the Central Electricity Regulatory Commission (CERC), the government has to buy the green energy from the project at Rs 7.90 per unit, revealed officials.
The SMC has no mandate to buy electricity as it is domain of HP State Electricity Board Ltd (HPSEBL) and the power department, said Shimla Mayor Sanjay Chauhan, who presided over the general house here today. "We will weigh all options, but the state Urban Development Department has to take the final call", Chauhan said.
Elephant Energy, Delhi, which has proposed the green project to the SMC, cited the example of the solid waste treatment plant that the company had set up in New Delhi.
The plant treated municipal solid waste, not construction debris, and used electricity to burn the solid waste, they said. It produced 15 per cent fly ash which was minimum by all standards, company managers informed the SMC in a presentation here.
The managers also visited the Bariyal treatment plant site for techno-feasibility study and found the site ideal for the plant.The company will bear the cost, said officials.
The SMC has also received two proposals from Organic Recycling Systems, Mumbai. It has proposed to revamp the Bariyal plant at Rs 8.91 crore and will charge Rs 580 per tonne of waste.
Third proposal has come from Zirakpur-based Green Tech Engineers. The company has proposed to replace the damaged conveyor belts and machineries that may need Rs 60 lakh. They need shredder, two trammeles, a drier, wielding sets, a JCB machine and other machineries as well.
The Zirakpur company has proposed to charge tipping fee of Rs 400 per tonne of solid waste and will increase it by 10 per cent every year. The electricity that it will generate from the waste will be charged at the subsidised rate of Rs 2 per unit.
The urgency to set up the plant is clear as it has been paying Rs 30 lakh every month to transport its waste to the JP municipal waste treatment plant at Chandigarh.