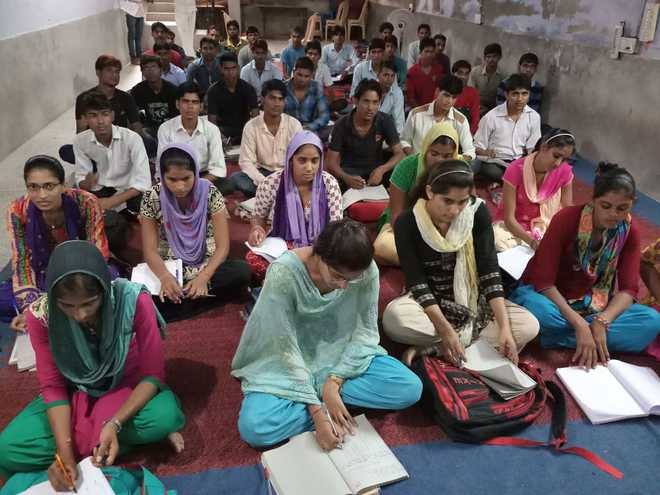 Yash Goyal
Jaipur, September 5
A teacher-couple in Rajasthan's Dausa district is offering free coaching, similar to Bihar's Super 30 classes, to help underprivileged students clear competitive exams.
As the country celebrates Teacher's Day on Tuesday, the Nishulk Guidance Classes, run for the past seven years by Vinod Meena (41) and wife Seema (39) to support the poor and deprived youth of tribal areas in chasing their dreams, is a true tribute to the noble profession.
The couple, who are government school teachers and hail from Raini tehsil in Alwar district, select 60 students after a screening process and coach them to crack exams for government jobs.
(Follow The Tribune on Facebook; and Twitter @thetribunechd)
They say they spend Rs 20,000 each month from their salary to pay for the rent of the premises and stationery.
"I appeared in the IAS interview thrice but could not crack it. It was after this that I decided to share my knowledge with the youth who are not able to afford coaching classes," says Vinod.
His wife says they were dogged by discouragement at every step. "But, every negative statement motivated us. We have not registered the coaching classes and we do not aim to register it as an NGO."
Their example has inspired other teachers to contribute to their cause.
"Earlier, villagers would laugh at us for wasting money and time, but later, people realised its importance and more teachers willing to impart education on no remuneration joined the mission. Now, a group of super-30 aspirants and super-60 are formed for select competitive exams," they say.
"I teach students for an hour every day and it gives me immense satisfaction. It fills me with energy as I give back something to society," a volunteer faculty, Chandra Prakash Sharma, says. Man Mohan, who teaches general knowledge to the aspirants, also expressed similar sentiments.
"Our classes last for four hours except on Sunday. So far, over 300 students from our classes have secured government jobs," says Meena.
The students who made the cut are filled with gratitude for the couple's support.
Nishu Singh, who got selected as a government teacher, says, "The coaching tips and their simple way of teaching helped in getting the job, which could not have been possible without their help and support."
Posted as a soldier in the Army, Ajit Singh Gurjar says, "I, like several others in tribal areas, could not afford coaching classes. The efforts of the couple have made my life. It is a true service to humanity." With agency