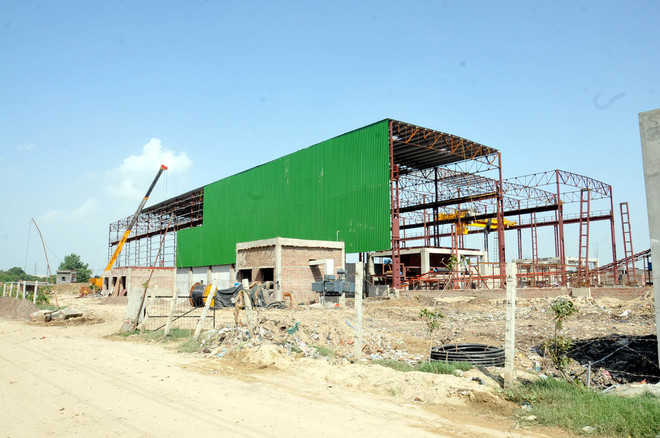 Sukhmeet Bhasin
Tribune News Service
Bathinda, February 16
The solid waste management plant has not yet become operational as after the completion of its building, it still awaits clearance from the Punjab Pollution Control Board (PPCB).
Recently, a PPCB team visited the site of the plant and found many irregularities. They asked the officials of the company to cover the whole upper portion of the plant and also told them to maintain the green belt at the plant site properly.
After winning a case in the National Green Tribunal (NGT), the work on the project was started but it could not be completed as per its deadline which was set for June 30, 2015. It is already running six months late and it is still not clear when it will become operational.
Residents are facing problems because the garbage in the city can't be treated due to the delay in starting the production of RDF and other organic fertilisers by the company. Around 120 tonnes of garbage is collected by the workers of the company in the city every day and they dispose it of at the waste treatment plant site.
Residents of the nearby areas have complained of a foul smell emanating from the plant.
The construction work in the first phase has been completed at a cost of Rs 28 crore on 30 acres where the city has been dumping its garbage for the last three decades. In the later stages, the garbage will be processed to produce power as well as other useful byproducts.
Nitesh Tripathi, an official of the JIFT company, said the plant has not become operational yet as they have not got the pollution clearance so far. Tripathi said the company has applied for clearance, but there is a set procedure for this and it takes time, but we are hopeful of getting it in the next 15-20 days.
Mayor Balwant Rai Nath said there are some things which need to be done to get the clearance. "We have even brought chemical from Gujarat, which is will be used on the garbage and it will lower the foul smell emanating from it," he said.
The Mayor said they have written to the PPCB and told them to deploy their staff at the site so that things can be arranged as per the PPCB norms and its work can be started soon.
Engineer (Environment) with the PPCB Surjit Singh Dhariwal said the plant has got environmental clearance from the Government of India. " Its building is ready in the first phase and they have applied for operational consent. Our officials are working on it," Dhariwal said.