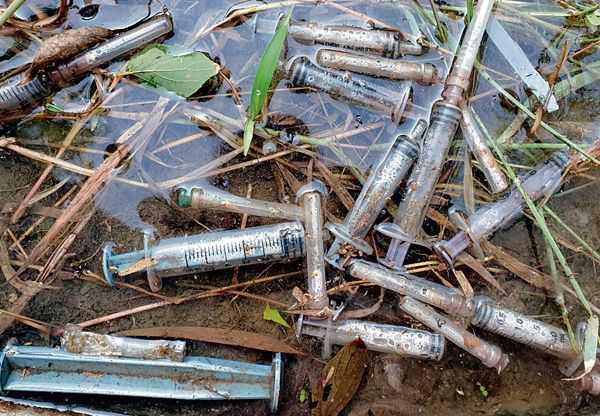 Tribune News Service
Chandigarh, October 22
Over a dozen used disposable syringes were found dumped in an enclosure for water at a garden at Panjab University (PU), which is frequented by birds, nilgais and monkeys.
The used syringes were found lying scattered not only inside but even outside the last of the three enclosures in the extension of the PU's Botanical Garden.
Sources said they might be indicative of a growing drug problem among the youth since there seemed no other way the syringes could have found their way into the enclosure. Though the garden is locked through the night and opened only past 6 am for the benefit of the campus residents, who throng the place for their morning walk, the discovery of syringes comes as a mystery even to the authorities.
Employees maintain that they are present on the premises from 9 am to 5 pm and have hardly seen any visitors in the area since it is not a public place.
Enclosed in high walls with barbed wires and big gates, the garden is not easily accessible, which further puts a question mark on the presence of the syringes.
Open to the residents for just over two hours in the morning and closed after the employees leave, sources maintain that it is difficult to say how the syringes reached there. The only possible explanation is that somebody managed to walk through the small forest patch, inhabited by monkeys and peacocks, and scaled the rear wall of the garden to get in during the dark.
Wildlife experts said the syringes with needles could be fatal for birds and animals which met their water needs from these enclosures and should be removed immediately.
Talking to The Tribune, Prof Daizy Rani Batish, chairperson, Department of Botany, PU, said the garden was established for research purposes and it was opened for a limited period only. "There are some spots from where nilgais enter the garden and destroy plants. We are also planning to plug these entry points," she said. Professor Daizy said she would look into the issue.
Top Stories