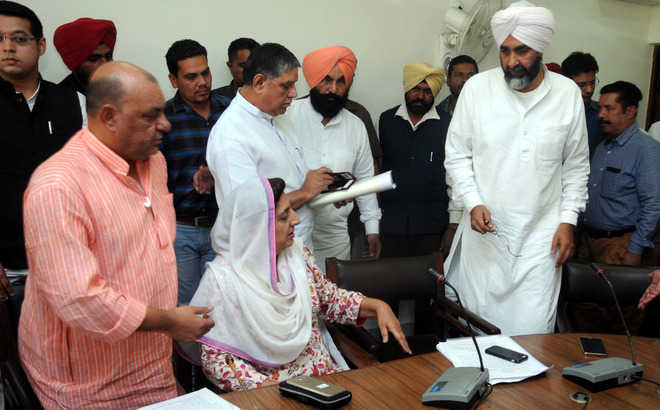 Manav Mander
Tribune News Service
Ludhiana, November 5
Reassuring that the Congress has always championed the cause of farmers, former Chief Minister Rajinder Kaur Bhattal and vice- president of the Punjab Pradesh Congress Committee Manpreet Singh Badal today said that if the Congress comes to power, loans given by banks will be waived. However, Bhattal was quick to point out that no personal loan will be waived.
Both Bhattal and Manpreet were in the city to seek the views of arhtiyas to incorporate them in the Congress manifesto in the run-up to the assembly elections scheduled to be held in the next few months.
Bhattal said that the suggestions of arhtiyas regarding their problems and that of the farmers were given a patient hearing. She said if the Congress comes to power, top priority would be given to the agro sector, which includes resolving grievances and problems faced by the farming community.
Bhattal assured that the outstanding loan of farmers from banks and cooperative societies would be waived by Congress in case it comes to power. She also assured the arhtiyas and told them not to worry about the waiving of loans regarding the money borrowed by the farmers from them.
The Congress would also make the system of lifting produce and payment to them for their crop transparent. She said transparency would help bridge communication gap between the arhtiyas and the farmers.
The former CM also ridiculed the Aam Aadmi Party (AAP) and said the AAP was merely focussing on lofty promises. The promise of 25 lakh jobs made by AAP is a great joke as the party has not given any blueprint for it, she said.
In his interaction, Manpreet Badal commented upon cricketer-turned-politician Navjot Singh Sidhu's efforts to cobble an alliance and said, "Jahan ishq hota hai, wahan saude nahin hote".
"If Navjot Singh Sidhu really loves his state, then he should join the Congress because there is no other party apart from the Congress that will work for the benefit of Punjab. Sidhu has star value and he has been trying to cash in on it. It has been two months and he has yet not made up his mind," said Badal.
Further talking about the Shiromani Gurudwara Parbandhak Committee (SGPC) elections, he said the elections were a joke and the SGPC members should have confidence in each other.
Lashing out at Deputy Chief Minister Sukhbir Singh Badal, he asked what the contribution of Sukhbir was for the state. "He only makes tall claims but fails to deliver and has done nothing for the development and welfare of the state," Manpreet said.
Top News
AICC observers dub 92 MLAs' meet as 'indiscipline' | Sonia G...
Says Rajasthan Congress crisis all about dynastic politics
The US$ 325 million mission was the first attempt to shift t...
Won't make Article 370 a poll issue, he says
Abe was shot dead while making campaign speech in city of Na...