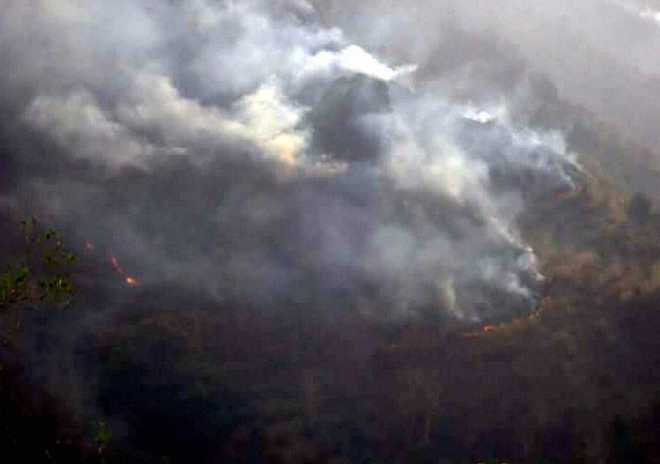 New Delhi, May 1
Uttarakhand forest fires could be a man-made disaster, Environment Minister Prakash Javadekar said on Monday, as the National Disaster Response Force claimed that the inferno had been put out in more than 70 per cent of the affected areas.
Four people have been arrested in connection with the fires.
Videos: Uttarakhand forest fire to be put out soon says Prakash Javadekar
Low visibility hampers dousing ops in Uttarakhand
Latest satellite imageries of Uttarakhand have reported that the forest fire has gone out in over 70 per cent of the affected areas, said NDRF.
"We have been informed that fresh images from satellite has shown that the effective area under fire in Uttarakhand has come down to 110-115 locations from the earlier about 427."
"It is expected that these figures will be brought down to 50-60 in the next few days by the combined forces fighting to douse the jungle fire," NDRF Director General OP Singh said.
He said the images from the sky were taken on April 29-30 and this has now given hope to all the agencies combating the fire that it will be contained soon.
The Director General said the NDRF men are also working to save animals that could have been trapped in the blazing fire.
A squad of over 135 personnel of this special force are deployed in Uttarakhand as part of multiple firefighting teams to combat the raging fire in the jungles of Uttarakhand that have destroyed about 2,269 hectares of jungles in several districts and claimed at least seven lives till now.
The National Disaster Response Force (NDRF) teams have spread out in 13 affected areas of three districts of Pauri Garhwal, Almora and Chamoli with fire fighting equipment to tackle the massive blaze.
"Our teams are working in 13 sectors in coordination with the officials and personnel of the state fire and forest department. The teams have been instructed to adopt the conventional method of cutting the fire line and containing the fire.
"We are using fire beaters and green bushes to cut the fire from spreading. About 135 personnel as part of multiple teams are working in Uttarakhand at present," Singh said.
He said in Chamoli the NDRF is working in Pakhi and Gopeshwar areas, while in Almora the teams are working in areas like Binsar, Someshwar, Bikisen, Siplakhet and Dhauladevi.
Each team is covering an area of 8-10 sq km, he said, adding, additional NDRF teams have been kept on standby at its camp in Ghaziabad.
The force also saved a house from getting engulfed in the fire in the hilly jungle area of Mehlchori in Pauri district in which a family of four members lived.
Singh said he is in constant touch with his team leaders working in the state.
'No need to panic'
"The state administration is on the job. I reviewed the situation last night and authorities have told me that things are normal and under control," Home Minister Rajnath Singh said during Zero Hour after the issue was raised by Saugata Roy of the Trinamool Congress, Jagdambika Pal (BJP) and several other members.
He said National Disaster Response Force (NDRF) personnel and choppers have been deployed and the fire has been brought under control.
"But there is no confirmation from the local authorities of any casualty due to the fires," the minister said. — Agencies/ TNS
Top News
International body objects to 'undue influence' from 3rd par...
Police say Adil Wani killed Sunil Kumar Bhat in an orchard i...