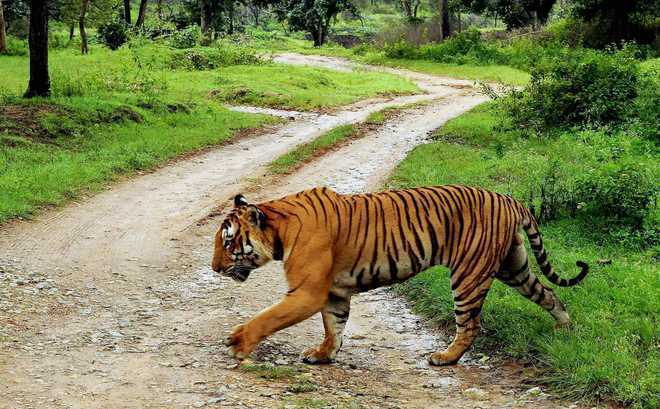 Hyderabad, July 8
Serious differences have emerged between the Centre and Telangana Government over uranium explorations in the Amrabad Tiger Reserve, spread across Mahbubnagar and Nalgonda districts in southern part of the state.
The state Forest Department has said it will not allow any exploration that interferes with the natural habitat of the inhabitants.
The Union Government has given a go-ahead for uranium exploration despite stiff opposition from the state Forest Department. Though the permission was given a long time ago, the state has resisted opening up the area for drilling of boreholes in four blocks of the reserve. Telangana's Principal Chief Conservator of Forests PK Jha said no drilling would be allowed inside the reserve without the clearance from the National Tiger Conservation Authority.
The Department of Atomic Energy (DAE) had submitted a proposal three years ago to carry out survey and drilling of boreholes in the area known as the Rajiv Gandhi Wildlife Sanctuary within the tiger reserve. Of the four blocks where the DAE wants to start drilling, three are located in areas where the tigers need maximum protection.
According to the permission details released by the state officials, the Union Ministry of Environment, Forests and Climate Change accorded permission in May stating it was giving an "in-principal" approval considering that the uranium finding was of critical importance to the nation, but all permission must be sought by the DAE in the required formats from competent authorities.
Spread across 2800 sq km, the reserve is home to leopards, spotted and barking deer, wild bores, striped hyena, rock python, etc besides tigers. The DEA proposes to explore about 83 sq km, but state government officials said the exact area for the proposed exploration had not yet been specified.
Since the exact location had not been identified, forest officials said it was impossible to determine what would be the extent and seriousness of the damage to wildlife in the reserve. However, the forest department has already conveyed to the Centre that flora and fauna would be adversely affected. The reserve is home to several medicinal plants that include endangered species.
The state has argued that the transportations of drilling equipment, movement of vehicles and man force would lead to loss of biodiversity and contamination of the soil and air in the reserve. State has told the Centre "mining will cause erosion, formation of sinkholes, loss of biodiversity, and contamination of soil".
With relations between the ruling TRS in the state and the NDA Government at the Centre being far from cordial, the issue is headed for a stalemate. — TNS
---
DEA proposal
Three years ago, the Department of Atomic Energy sought drilling in the Rajiv Gandhi Wildlife Sanctuary of the Amrabad Tiger Reserve
Of the four blocks where it wants drilling for uranium, three are located in areas where the tigers need maximum protection
The Union Ministry of Environment, Forests and Climate Change gave 'in-principal' nod to the exploration
Telangana's Forest Dept has conveyed to the Centre that flora and fauna would be adversely affected