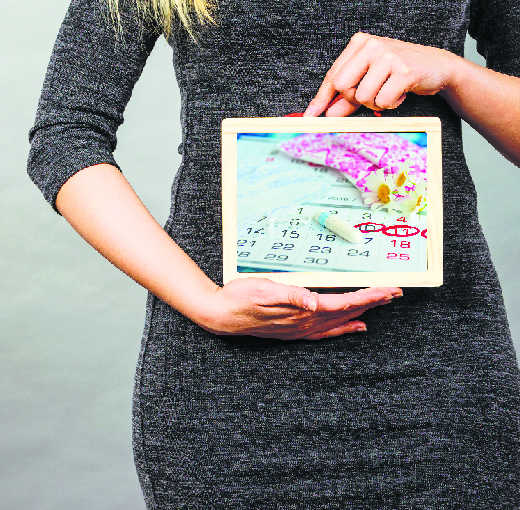 singhking99@yahoo.com
Dr Seema Sharma
Menstruation is a natural process. However, in most parts of the world, it continues to remain a taboo and is rarely talked about openly. A new norm that is on the rise is the early onset of puberty in girls and boys. A large number of girls are getting their first period at eight or nine years of age. A major reason is that the production of hormones that mark the onset of puberty start early in their body. In a majority of cases, there is no definite reason for this. However, many times early menstruation may be related to body weight, lifestyle factors like obesity and hereditary factors. A number of studies have shown an association between obesity and an increased risk of early puberty in young girls and boys.
While menarche is starting early now, it is extremely important that menstrual hygiene is discussed with the adolescent girls by their parents, teachers, etc. Puberty is a critical juncture between childhood and adulthood and needs to be handled with sensitivity by adults.
Need for awareness
Many parents, even mothers, are uncomfortable discussing the subject with their daughters. It is extremely important to provide accurate and pragmatic information to ensure good hygienic menstrual practices. The family, especially the mother, has the most important role in educating the girls and telling them about practising safe health behaviours so that they can face the critical stage of puberty, armed with right information.
Awareness and knowledge prevent girls from feeling embarrassed about a natural process and make them feel confident about themselves and their body. More than girls, it is awareness among men and boys (father, husband, teachers, brothers and peers) that is needed to avoid embarrassment, cultural practices and taboos around menstruation that negatively impact a woman or girl's lives.
When does puberty start?
Puberty starts at different times and lasts for different periods of time for everyone. It can start as early as 8 years or as late as 13 years of age. The sequence of puberty — from breast development to complete physical maturation — may take a year and a half. This is sometimes very difficult for girls as some of their peers may have entered and completed puberty before some of them may have even started. However, there is no way to slow or speed up the process. Girls' bodies change in size and shape during puberty. Their hips become more rounded and they get a more defined waist. The vulva, vagina and nipples get bigger and the breasts begin to develop, sometimes unevenly. Other changes include appearance of pubic hair and vaginal discharge — an increase in the mucous produced in the vagina.
Impact of lifestyle habits
The incidence of obesity among kids is rising alarmingly. About one-quarter to one-fifth of children in India are obese. Obesity in children has tripled in the last few years. Parents are responsible as they continuously feed their children processed foods that are high in calorie and fat. Maintaining a healthy weight and providing the right nutrition is one of the most important factors that affect pubertal development. Overweight or obese children are also more likely to enter puberty early as many are not encouraged enough to engage in outdoor activities. Most obese kids are addicted to TV, playstations, and many may be binge eating. Instead of harmful junk food, parents need to give them a balanced diet that has the right amount of protein, carbs, fat, iron, calcium, zinc and folate during this critical period of rapid growth.
What we need to do
Education and information by parents about reproductive health, sexuality and related issues is often a no-go area that leads to lack of right knowledge and understanding on these issue.
Parents, especially mothers, need to have a continuous and open conversation with their daughters and reassure them by explaining what is happening to their body.
It is important that you listen to her concerns and help her devise ways to deal with any negative reactions she gets from her peers.
It is vital to ensure that your daughter knows how to use feminine hygiene products (such as pads) correctly and how should she handle the situation when caretakers are not around.
Talking openly about puberty and menstruation at home and school allows free flow of conversation and clarifies myths.
Education and information (in combination with hygiene and sex education) empowers women and girls with factual information about their bodies and how to look after them.
Teachers are rarely trained in teaching menstrual hygiene, and consequently, rarely teach it; male teachers may feel cultural norms forbid them.
Good hygiene practices about the usage of pads, which can also lead to bacterial growth if used for a long time, should be discussed. Appropriate usage and change of pads every four to six hours should be encouraged
Probable causes of infections and associated diseases should be discussed.
Sex and other related aspects also need to be openly talked about.
---
Signs
In girls
Breast development (often the first sign)
Menstruation / first period (menarche)
Cramps (pain in lower belly or lower back)
Bloating
Mood swings (when emotions change quickly or you feel sad, angry, or anxious)
In boys
Growth of the testicles, penis, and scrotum
A deepening voice (usually late signs of puberty)
Other symptoms to watch out
Pubic or underarm hair
Acne
Adult body odour
Some myths
Impure state: Do not enter a temple or touch pickle
Talking about periods can scare a child
Don't enter kitchen, don't go out as menstruating women contaminate the surroundings
Menstrual blood is bad or dirty
— The writer is senior consultant, obstetrics and gynaecology, Cloudnine Hospital, Chandigarh
All readers are invited to post comments responsibly. Any messages with foul language or inciting hatred will be deleted. Comments with all capital letters will also be deleted. Readers are encouraged to flag the comments they feel are inappropriate. The views expressed in the Comments section are of the individuals writing the post. The Tribune does not endorse or support the views in these posts in any manner.