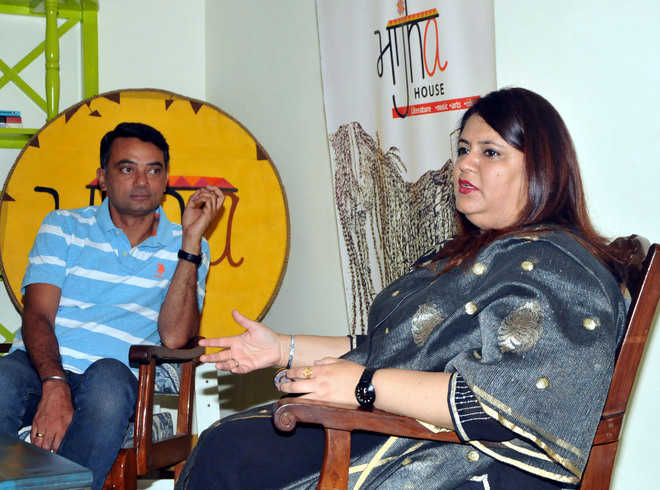 Tribune News Service
Amritsar, May 25
When a woman decides to travel to Kashmir on her maiden solo visit, it is bound to raise a few questions. The most prominent one being – Why a militancy-inflicted, volatile and unpredictable place? Dr Harmeen Soch, assistant professor-turned-solo traveler and blogger, too, had to face them, but now she has all the answers.
"The biggest misconception about Kashmir is that it is unsafe, especially for a woman solo traveler. Kashmir is very safe, a welcoming place for tourists where you are treated with nothing but warmth. Being a volatile place, it does have its limitations sometimes and you have to take care of certain aspects, but exploring Kashmir can be exhilarating," she shared at a session held at Majha House.
Her first expedition to Kashmir happened in 2016 when she went there with her friends on an all-women trip. "Since it was my first, a lot of people told me to go to places like Shimla or other safe areas, but my heart was set in Kashmir. We flied down there, stayed for a few days in Srinagar and travelled to Pehalgam and then decide to travel more. And then Burhan Wani killing happened and chaos followed. We were taken out of there and returned home. Later, when I decided to take my first solo trip to Kahsmir, a lot of people advised me against it," she said.
But she seems to have proved them all wrong over the multiple expeditions. Soch's most interesting and life changing stories, as she puts it, come from travelling to uncharted areas like Gurez Valley and areas near the LOC. "Nobody knew where Gurez was when I first got to know about and most people too mistake it for the famous Neelam Valley, which falls under the Pakistan-occupied Kashmir (POK). With not a single shop or shack miles on the way and only military camps at various stops, the trip was indeed different. I met locals and Army personnel to get their stories, know about their lives and it was a humbling experience."
Soch says that Kashmir is not just the conventionally-established Gulmarg, Pehalgam and Srinagar route. She chooses to see the other side. "Kashmir has lot of unexplored places with rich culture and its people are inviting and not hostile. They live simple lives. Their livelihood mostly dependent on tourism. The lack of basic amenities in some of the places that remain cut off in winters and the struggle to earn the daily meal is what I have witnessed in my travels," she said.
In love with Kashmir, she plans to take her next travel soon and shares a piece of advice to fellow solo woman travellers. "You need to be pack for all kind of situations. I am a conservative traveler. I prefer to stick to my plans. When you plan your trip, choose places that are high on safety index, have contacts of local authorities with you, do research about the place and as soon as you pack up your bags and move, you are on your own. Keep that in mind," she adds.
Top News
Hundreds are still believed to be trapped under rubble, and ...
Chances of Parliament taking up a discussion on Motion of Th...
A Muslim man alleged he was assaulted and abused in the name...
Frank Hoogerbeets describes himself one having 'utmost respe...
Will be produced before the competent court in Mohali on Tue...