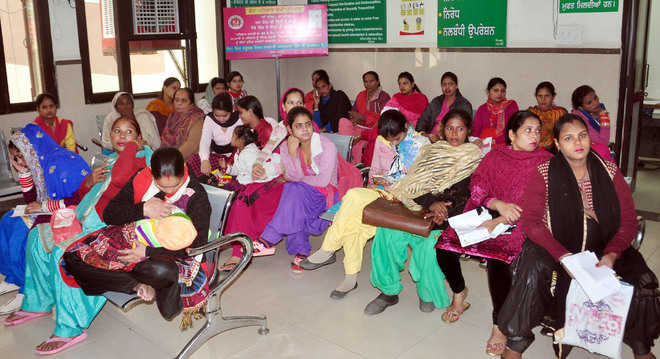 Tribune News Service
Amritsar, November 13
The shortage of specialist doctors, mainly gynecologists, orthopedicians and surgeons, at Jallianwala Bagh Martyrs Memorial Civil Hospital here is resulting in increased work load on the available staff and long waiting hours for patients.
Employees at the hospital say that the numbers of OPD patients to the hospital have increased manyfold in the past couple of years but the staff strength is way behind than the sanctioned positions. One of the employees at the hospital, seeking anonymity, said the doctor-patient ratio should be reassessed on the basis of the daily OPD list and more manpower should be made available to provide better medical services.
Currently, the hospital has only three gynaecologists. With around 450 child deliveries at the hospital every month, the strength of gynaecologists is not enough to provide 24-hour services. "At least four specialists are required as three can manage eight-hour duty and fourth is required to act as a reliever in case one goes on leave or falls sick. Nowadays, keeping in view the huge rush of patients, six regular gynaecologists are required," said a doctor.
Also there is only one orthopaedic specialist and one surgery specialist. According to staff, three specialists each are required to run the services smoothly.
Around 1,200 patients visit the OPD daily and over 50 new patients are admitted everyday. While the doctors' shortage is resulting in a trouble for the existing staff, patients too have to wait for hours for their turn.
Pregnant women are the worst sufferers as they have to wait for quite long in the gynaecology ward for their turn.
Senior Medical Officer, Dr Charanjit Singh said, "Senior officials of the department and the health minister have been apprised of the situation. We have been promised adequate staff soon."
Top News
2 feared dead as car plunges into Beas river on Chandigarh-M...
On Tuesday, a police team from Chhattisgarh reached Uttar Pr...
Mann is getting married to Dr Gurpreet Kaur; it is his secon...
The bus was making way for another school bus when the accid...