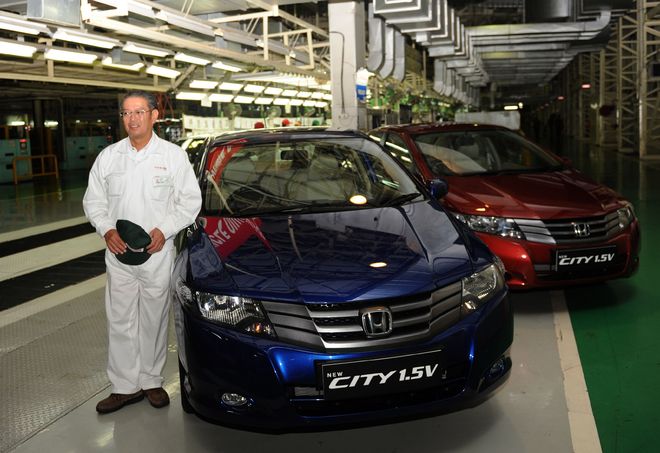 Girja Shankar Kaura
Tribune News Service
New Delhi, December 10
Japanese auto major Honda Cars India Ltd (HCIL) will recall 90,210 diesel units of its sedan City and multi-purpose vehicle Mobilio manufactured between December 2013 to July 2015 to replace fuel return pipe.
HCIL said 64,428 units of diesel Honda City manufactured between December 2013 and July 2015 and 25,782 units of Mobilio manufactured between June 2014 and July 2015 would be recalled.
In a statement issued here, Honda said, "There is a possibility that in some of these cars, the fuel return pipe may come out, resulting in a fuel leakage and leading to engine stoppage."
The fuel return pipe and related parts will be replaced free of cost at the company dealerships across India from December 19 in a phased manner and the owners will be contacted individually, the automaker said. It said customers could also check whether their car was covered under this campaign by submitting their 17 character alpha-numeric Vehicle Identification Number (VIN) on a dedicated microsite which has been created.
The recall comes less than three months after Honda announced the country's second biggest recall to replace airbag inflators.
In September, the fourth largest player in the domestic passenger vehicle market had initiated a recall of 2,23,578 units of City, Civic, Jazz and CR-V manufactured between 2003 and 2011 to replace airbag inflators.
This is the fifth recall by Honda in 18 months. In May this year, it had recalled 11,381 units of the Accord, CR-V and Civic manufactured between 2003 and 2007 to replace a faulty part in passenger and driver-side airbags.
In July last year, the company recalled 1,338 units of the Accord and CR-V models manufactured between 2002 and 2003 to replace faulty inflators in the passenger-side airbags. Subsequently, in October 2014, it recalled 2,338 units of the Brio, Amaze and CR-V manufactured between September 2011 and July 2014 to replace faulty inflators.
India does not have a mandatory recall policy for vehicles, though companies have voluntarily announced recalls from time to time. Ever since the auto industry body — Society of Indian Automobile Manufacturers (SIAM) — had introduced the voluntary recall policy in July 2012, manufacturers had recalled over 1.5 million passenger vehicles.