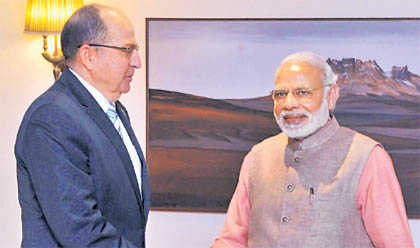 AFTER Russia breached the exclusivity in its military association with India, Israel may be the next in line despite Prime Minister Narendra Modi's unprecedented contacts for an Indian Prime Minister with the Jewish state. Modi had become the first Indian Prime Minister to hold a meeting under arclights with his Israeli counterpart Benjamin Netanyahu in New York besides holding an extended conversation with President Reuven Rivlin at Singapore strongman Lee Kuan Yew's funeral. To the accompaniment of a crescendo of approvals from the right corner of the Indian strategic community, Modi let it be known that he will become the first Indian Prime Minister to visit Jerusalem. The tour was going to be packaged with balancing-out stopovers in a couple of Muslim-majority countries.
It may not longer be a mystery why neither External Affairs Minister Sushma Swaraj nor Modi could persuade themselves to visit Tel Aviv the whole of last year despite making an announcement to that effect (Ms. Swaraj will now visit Tel Aviv from January 17). Instead the Government opted to send President Pranab Mukherjee to the three destinations, including Israel. The reason lies in Israel's inability to resist Chinese overtures for its military equipment. Even as the right-wing corner of the Indian strategic community was hailing the upswing in ties with Tel Aviv and diplomats of both countries were burning the wires to prepare for the Modi visit, China was indulging in some quiet bargaining with Israeli defence manufacturers.
As in the past, once military equipment is sold to China, it is a matter of time before Pakistan lays its hands on it. The recent inauguration of a top Israeli defence company's factory in China has negated some 15 years of spirited Indian diplomacy to thwart the two from defence cooperation that enters the realm of joint research and development. With active US help, the Atal Bihari Vajpayee Government had accomplished something very rare in the annals of international military trade. Israel was forced to return Chinese advance payment for high-end aircraft-mounted radars that spot planes in a 400-km radius, thus providing considerable advance warning for the air defence systems to get ready for action. Without resorting to this Government's penchant for high-end optics, the Vajpayee Government followed by the Manmohan Singh regime then quietly shaped a unique India-Israel-Russia partnership to get this technology for its armed forces.
For the record, Israel Aeropsace Industries (IAI) claims its upcoming factory in China will cater to the civilian sector. The ambitious Chinese plans to double the number of its civilian fleet and add about 60 airports within the next two decades may underscore the assertion. It is true that China-Israel military relationship is of older vintage than India's defence ties with Tel Aviv. Goaded by the US, China and Israel had separately equipped the Mujaheedin in Afghanistan to take on the Soviet Red Army. Israel is also said to be China's second biggest foreign supplier of military equipment. This statistic conceals Israel's huge gap with Russia, China's biggest supplier of equipment. It also does not tell the story of Israel developing military equipment for India not obtainable elsewhere in the world such as Barak ship-busting missiles, advanced men and equipment-detection radars and lethal aircraft-fired missiles.
The Chinese breakthrough in poaching companies exclusively equipping the Indian armed forces is the second strategic set back in the defence sphere during this Government's tenure. Russia had caused a flutter in the Indian strategic community when six months into the Modi Government, its Defence Minister went to Islamabad and met Pakistan's leadership. Two months earlier, Pakistan army chief Raheel Sharif witnessed live demonstrations of Russian military equipment, inked a defence cooperation pact and came away with a promise for the same Mi-35 attack helicopters deployed by India in Pathankot to scorch wooded portions near the airbase where militants were believed to have been hiding. Pakistan has so far been using F-16s for bombing bases of rogue Taliban factions. Operating from lower heights, the Mi-35s cause considerably less collateral damage or inadvertent killing of civilians, a factor that has fed vengeful recruits to Taliban and Al-Qaida factions trying to bring down the Pakistani State. More important, Mi-35s are deployed as tank busters, flying over own side's armoured formations to destroy oncoming enemy tanks. As a follow up of the first contract for four Mi-35s, Russia has promised to supply Pakistan with at least 20 more pieces. These have the potential to even out the overhead advantage enjoyed by Indian tank formations in the event of a thrust into Pakistan.
Apart from India, Russia had so far supplied these helicopters to Brazil, Venezuela and Azerbaijan. None of them is likely to turn over the technology to Pakistan till the present
Government's inordinate proximity to the US led Russia to redraw its strategic game plan for military cooperation in South Asia.
Now Israel seems unable to resist Chinese overtures for its military technology. Apart from Modi's top-level meetings, India abstained from a recent UN vote on the Israel's strong arm tactics in Gaza, the first time ever. The first visit by an Israeli Defence Minister to India also took place under his watch. Modi also did the unprecedented for an Indian Prime Minister to keep Israel happy. He got himself photographed while standing next to the booth of an Israeli company at the Indian defence expo last year. His spin managers billed it was a public display of Israel and India's strategic relationship. That solid and quiet diplomacy and agile political footwork is no match for ploys such as these has become painfully apparent after the same company, IAI, now breaks bread with the Chinese. China in the past could not persuade four visiting Israeli Presidents and three Prime Ministers to go the whole hog in defence equipment transfers. Modi's simplistic approach to international relations may have unravelled India's previous efforts to prevent exactly that.
sandeep4731@gmail.com