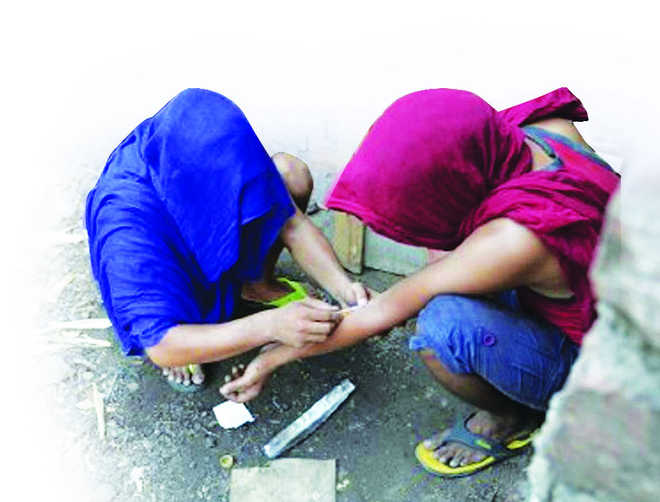 shalender@tribune.com
Ruchika M Khanna
Tribune News Service
Chandigarh, August 23
In Punjab and districts bordering the state, 10 per cent of those hooked on drugs started consuming narcotics even before they turned 14 while a majority (72 per cent) are in the age group of 15-35 years, as per a study commissioned by the Indian Council of Social Science and Research (ICSSR).
Conducted in February 2017 by RS Ghuman, Gurinder Kaur and Jatinder Singh, Centre for Research in Rural and Industrial Development, the study was submitted in July this year. It covered Punjab's eight districts — Amritsar, Tarn Taran, Jalandhar, Ludhiana, Moga, Sangrur, Bathinda and Mansa — Haryana's Ambala and Sirsa districts, Rajasthan's Ganganagar and Hanumangarh, Himachal's Kullu and Kangra and Jammu's Kathua.
The study revealed that the dug menace had spread its tentacles to districts of states neighbouring Punjab.
Each of the 1,140 addicts interviewed, 58 per cent of them from Punjab, referred to other 10-200 drug users, helping researchers get the profiles of 21,000 addicts. The study has recommended a house-to-house survey to arrive at the exact figures to initiate remedial measures. "The key factors for the youth taking to drugs is peer pressure (85 pc) followed by unemployment and easy availability of drugs, Punjab being a transit point for cross-border suppliers. Owing to political patronage and police protection, most addicts believe consuming drugs is not against social mores", explained Ghuman.
Study on addiction
Rs 200—Rs 2,000 Per day expenditure on drugs
54% addicts are from
Rural areas
Rs 5000—Rs 1 lakh Cost of treatment
6 months to 60 months Treatment period
Key factors: Peer pressure, unemployment, easy availability political & police patronage
Easy availability
A 20-year-old Moga youth said opium was sold in his school by boys from neighbouring villages. By the time he reached Class X, he was addicted to cocaine and alcohol. He is now under treatment in Moga
SOLUTIONS SUGGESTED
Door-to-door survey to arrive at exact number of addicts
Concentrating on districts bordering Pakistan
Cutting supply lines with punitive & preventive steps
CASE STUDIES
As many as 46 case studies form part of the report.
A Jammu girl, 21, is undergoing treatment in Jalandhar. Because of domestic discord, she felt lonely and discarded. She would hang out with friends in Jammu, where she started taking drugs. By the time she was 17, she was hooked to heroin. Her family tried to marry her off to a man much older than her, she attempted suicide and was admitted to a Jalandhar centre.