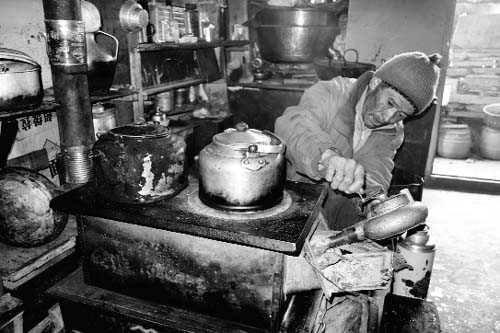 Russell Collins, a traveling enthusiast and social entrepreneur from Australia, has gone an extra mile: he offers a stove designed to consume less fuel and release less smoke without compromising on heating and cooking abilities.
Burning of firewood for cooking and for heating in subzero temperatures has been an age-old practice that has contributed to the vanishing tree cover as well as rising pollution levels. With over 4 million households in the Himalayan region — the North-Eastern states, Nepal, Bhutan and parts of Pakistan —the problem is enormous.
Russell calls it Himalayan Rocket Stove and says it not only uses one-fifth of the firewood used in a traditional bukhari or chulha but also cuts down pollution levels by 90%. The stove uses smoke from burning wood/dung also as a fuel through secondary combustion as temperature within the stove goes over 600 degree C.
The stove takes its name from the 'whooshing' sound that it makes when the fuel combustion spirals through an insulated high grade stainless steel pipe to release very high temperature. That's why, he says, the stove is ideal for heating the room as well as for cooking.
"The original idea came to me about three-four years back. It took two years of research and development to come out with a prototype. After testing the design in Ladakh and getting a grant, now we are in production", says Russell who aims to see as many as 2,000 stoves roll out of the Baddi plant in about a year.
The steel-based stove uses a combination of mild steel and high-grade stainless steel that can withstand very high temperatures. The 40 kg, 2-ft high stove is durable with a life span of around 10-20 years, says Russell. "Small sticks or dried animal dung that are easily available in higher reaches can be used effectively. This will prevent felling of", he says.
The stove has two variants: the larger one has a water box to add the water heating feature. In this around 18 litres of water can be heated (to boiling point) in about an hour's time for no extra cost," says Russell. He is currently working on a prototype where thermo-electric modules will be incorporated to enable mobile charging as well as power to light LED bulbs with this stove. Russell fell in love with the Himalayas around 25 years back. He says he has been associated with several social projects in Ladakh and Spiti Valley over the years.
Top News
The former military ruler had left Pakistan in March 2016 fo...
After his failed misadventure in Kargil, Musharraf deposed t...
Military shoots down the surveillance balloon in Atlantic Oc...
The incident took place on Friday when Kambli reached his fl...
Dearness allowance for employees and pensioners are worked o...