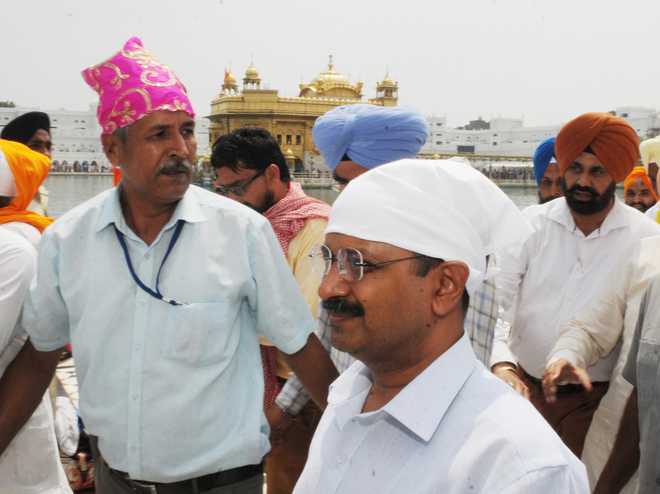 G.S. Paul
Tribune News Service
Amritsar, July 3
Aam Aadmi Party convener and Delhi Chief Minister Arvind Kejriwal and his supporters had to face resistance from unidentified Sikh persons in the Golden Temple complex on Sunday.
Kejriwal is in Amritsar to release the 'youth manifesto', the first poll document of the party ahead of 2017 Assembly polls. It was his maiden day of three-day visit to Punjab.
Later, addressing a rally, Kejriwal said his party will win at least 100 seats of the 117 in Punjab.
As Kejriwal along with his supporters came out of the Golden Temple complex at around 2.30 pm, two Sikh youth started raising anti-Kejriwal slogans and threw pamphlets at them.
(Follow The Tribune on Facebook and Twitter @thetribunechd)
This provoked Kejriwal's supporters who allegedly manhandled the duo. The situation was brought under control with the intervention of police who were present there in plainclothes.
The pamphlets titled as "Mister Kejriwal tu Sikhan da doshi hain' (Mr Kejriwal, you are an enemy to the Sikh community) held him responsible for demolition of a historic 'piao' at Gurdwara Sis Ganj Sahib in Delhi and rued that no apology came either from him or his MLA Alka Lamba.
"We, Sikhs, have never allowed anyone to point finger at our gurdwaras. You have run over our Sis Ganj with bulldozers!" the leaflet said.
It was on the orders of the Delhi High Court that the drinking water kiosk near the gurdwara was demolished on March 28. A mob took to violent protests when the Delhi MC officials demolished a 'piao' (water kiosk) during an anti-encroachment drive in Chandni Chowk. However, the kiosk was rebuilt after the drive.
While comparing Kejriwal with former prime minister Indira Gandhi, the protesters said the Sikh community will never forgive him and his party's ideology, which had hurt the sentiments of Sikhs.
Sources said the youth were taken into custody by the police.
Even as the SGPC task force and local police escorted Kejriwal's entourage, his visit was hardly recognised by the SGPC. He was not presented a 'siropa' (robe of honour) by the SGPC.
Kejriwal also paid obeisance at the Durgiana Temple, where he was honoured by the temple committee members.
At a rally, the Delhi Chief Minister said if AAP comes to power, the people behind desecration of Quran and Guru Granth Sahib will be booked to justice.
He also promised to end the menace of drugs business and mafias in Punjab within a month, saying, "The Aam Aadmi Party if comes to power, it can curb and put an end to drugs business and mafias in Punjab within a month."
"First Capt Amarinder looted Punjab followed by Badals, if AAP comes to power we will put behind bars those involved in corruption," he added. — With agency inputs