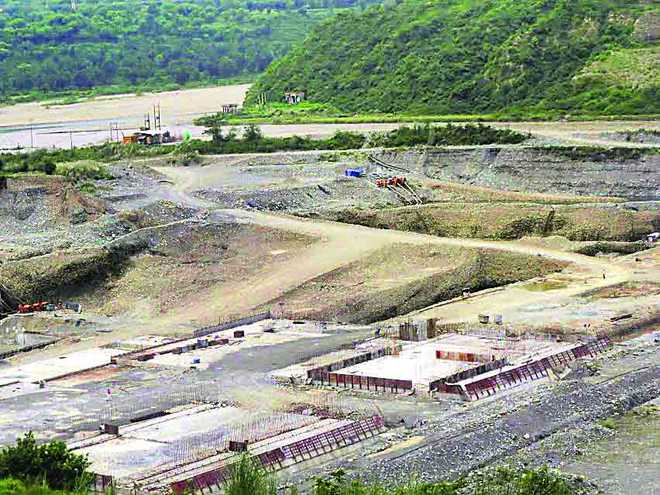 Sarbjit Dhaliwal
Tribune News Service
Chandigarh, September 28
Even as Prime Minister Narendra Modi has favoured maximising the internal use of three rivers, the Indus, Jhelum and the Chenab, that are part of the 1960 Indus Waters Treaty with Pakistan, the Punjab Government's Irrigation Department engineers have showed their concern over the flow of the Ravi waters to Pakistan downstream Madhopur Headworks in Pathankot district.
They want that the work on the Shahpur Kandi dam project be resumed to stop the flow of water to Pakistan, besides bringing more area under irrigation in Jammu region and enhancing the irrigation capacity in Punjab.
The Ravi water was to be pooled at the proposed balancing reservoir by raising the dam with an estimated cost of Rs 800 crore at Shahpur Kandi, about 11 km downstream the Ranjit Sagar dam.
Half of this reservoir was to be made in Punjab territory and the other part in Jammu and Kashmir. The land for the project was acquired years ago and the Centre was to fund 90 per cent of the project. However, following objections by the J&K Government, the work was suspended two years ago.
Consequently, whenever excess water is released from the Ranjit Sagar dam in the Ravi, especially during summer months, a good amount of water flows to Pakistan via Madhopur Headworks in the absence of a balancing reservoir at Shahpur Kandi.
Dr GS Dhillon, former chief engineer, Irrigation Department, said: "The balancing reservoir should have been completed even before the Ranjit Sagar dam."
In summer, when the demand for power goes up, all hydro-power units installed at the Ranjit Sagar dam are made operational. To operate turbines about 15,000 cusecs of water has to be released. Of this, 12,000 cusecs is released into the Upper Bari Doab Canal and Madhopur-Beas Link Canals at Madhopur Headworks and the remaining flows to Pakistan.
During the monsoon, sometimes floodgates of the Ranjit Sagar dam have to be opened due to topping up of the reservoir. Again, the water goes to the neighbouring country.
The J&K Government has taken the plea that since the Punjab Government has terminated the River Waters Sharing Agreement in 2004, the previous agreement relating to the Ranjit Sagar dam and Shahpur Kandi dam between Punjab and Jammu and Kashmir too have become defunct.
The Punjab Government has taken up this issue with the Centre asking it intervene, but the J&K Government has refused to budge from its stand.
Kahan Singh Pannu, Irrigation Secretary, Punjab, said the state government had been trying hard to convince the J&K Government over the matter, but to no avail. He said if the project was completed, it would bring additional 65,000 hectares of land under irrigation in Jammu region, besides stopping the flow of Ravi waters to Pakistan.
Top News
2 others eject safely I Debris strewn across miles I Sukhoi,...
Visit comes ahead of NSA chief's US tour
Union Ministers call it part of efforts to de-colonise, indi...