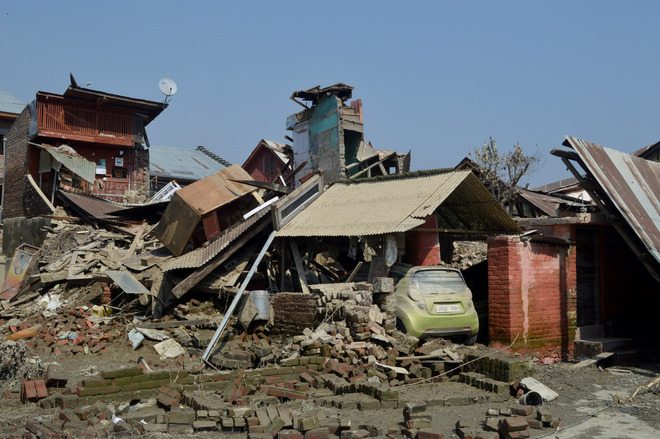 Rifat Mohidin
Srinagar, October 12
With the flood victims still waiting for proper rehabilitation, the Minister for Relief and Rehabilitation Syed Basharat Bukhari today said the proposed Rs 44,000-crore flood relief-package was under the active consideration of the Central Government.
It has been over 13 months when the floods hit Kashmir, but the state is still awaiting the Centre's approval for the proposed special package.
The state government, however, in a written reply today stated that the proposed package had two components — special financial package and National Disaster Relief Fund — and would be released under the two heads.
The official documents revealed that the restoration of the damaged infrastructure in Kashmir was going on under the medium and long term projects.
The overflowing Jhelum had left a trail of destruction in the summer capital last September, causing an estimated loss of Rs 1 lakh crore and affecting lives of 14 lakh people in the city. The floods also resulted in death of 85 people in the Valley.
The initial assessment report prepared by the state government, which provided break-up of the colossal destruction, had mentioned that 83,044 concrete houses were fully damaged while 96,089 were damaged partially in the disaster.
The state government had sought a special financial package of Rs 44,000 crore from the Centre for rehabilitation of the flood-affected people and restoration of the damaged infrastructure. However, the Union Government has so far announced only Rs 16-crore package.
Officials said once the state gets approval from the Government of India, the relief will be distributed under different categories.
Top Stories