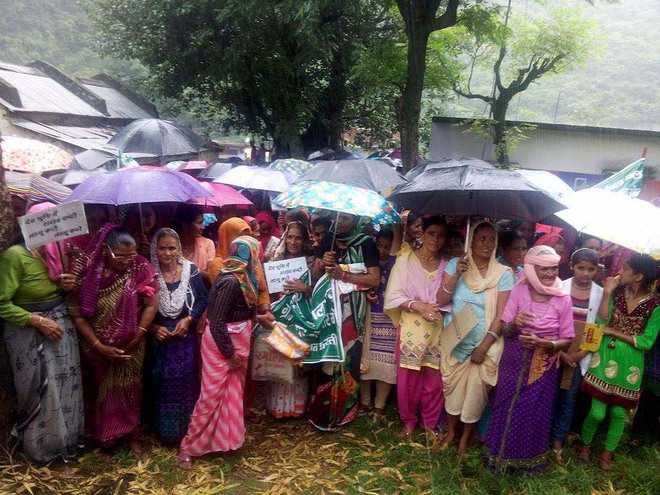 Ajay Ramola
Tribune News Service
Mussoorie, August 1
Village women in the hill districts are demanding a ban on the sale of liquor on the pattern of Bihar.
The unending anger against the sale of liquor was witnessed as women belonging to various self-help groups accompanied by local public representatives in large numbers gheraoed the police chowki at Nagni and raised slogans in support of their demand to ban liquor. They submitted a memorandum addressed to the Chief Minister demanded to ban the sale of liquor in their area.
The women from Jadhdhar Gaon, Sabli, Baagi, Plas, Kataldi, Bhatusain, Kataldi villages took out a procession and reached the Nagni Chowki, raised slogans and sat on a day's dharna.
Ratna Devi of Sabli village said, "If father consumes liquor, it is the family who suffers and sleep without food at night." Rajni Devi, president of the women self-help group, said the business of illegal liquor was flourishing right under the nose of the police at Nagni but the they had turned a blind eye.
The women alleged that the liquor was being sold at Nagni and Khadi under the patronage of police officials. Mamata Devi, a social activist of the area, said due to high consumption of liquor by men in the region, the cases of domestic violence, murder, road accident and brawl among villagers had become an order of the day.
The protesting women demanded from the Chief Minister to put a ban on the consumption of liquor during marriages. They also demanded a ban on playing of late night music in marriages and other parties. The women opposed the availability of liquor to widows of the servicemen in the area and demanded cash instead in the form of pension for the same amount.
They demanded from all political parties to promise a complete ban on the liquor sale in the state in their election manifesto. Vijay Jardhari, Roshni Devi and Vijaypal Rana took part in the protest.