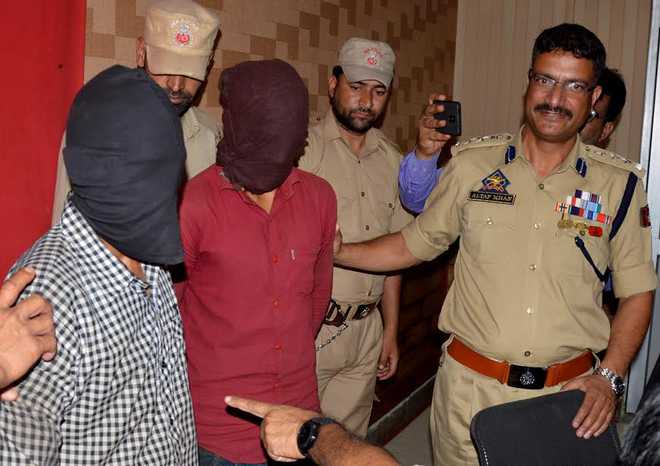 Majid Jahangir
Tribune News Service
Srinagar, July 10
In a worrying development, the J&K Police have arrested a non-local militant who was part of the Lashkar-e-Toiba (LeT) module that carried out an ambush on police party that left an Station House Officer (SHO) and five other policemen dead last month.
The militant has been identified as Sandeep Kumar Sharma, alias Adil, and is a resident of Muzzafaranagar in Uttar Pradesh
Inspector General of Police Muneer Khan said that Kumar was arrested during a gunfight in south Kashmir's Anantnag district on July 1 in which top Lashkar commander Bashir Lashkari was killed along with his associate.
Sandeep was rescued along with other members of the family by the police where Lashkar was hiding.
"We had an encounter in Annatnag where a notorious militant Bashir Laskri was eliminated along with his associate. It all started from there. Sandeep Kumar was apprehended in a live action. Once he was apprehended the fingers of suspicious raised. We were surprised to see a non-local sitting in the same house where Lashkari had taken shelter. We decided to probe further," Khan said while addressing a press conference.
He said Sandeep had been frequently visiting the Valley since 2011.
"He used to work as a welder and spent most of his time in the Valley. During winters, he used to go outside the Valley, especially north Patiala for employment. While working in Punjab, he came in contact with Shahid of Kulgam Kashmir. He along with some of his Valley-based associates came from Patiala to Kashmir for carrying out criminal activities. Consequently, the group got involved in different kinds of robberies, including ATM looting in South Kashmir. In these crimes, they worked in conjunction with Lashkar," Khan said.
Sandeep later joined Bashir Lashkeri and worked as a key aid.
"On further inquiry by the police, it was revealed that Sandeep along with other individuals hatched a criminal conspiracy leading to providing shelter, ferrying of terrorists from one place to other for terror strikes and actively participating in terrorist activities," Khan said.
"He also concealed weapons looted from police guards in a vehicle and shifted them to different locations on the directions of LeT," Khan said.
"Investigation so far conducted has revealed that the LeT in league with criminal network is raising money by looting banks, especially ATM," he said.
Top Stories