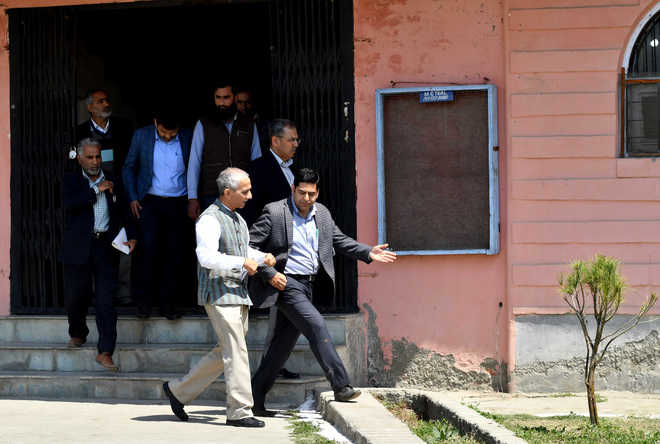 Samaan Lateef
Tribune News Service
Srinagar, March 30
Hours after the release of separatists by the J&K Government, the Centre's representative for Kashmir, Dineshwar Sharma, on Friday said the situation in the Valley was improving and peace would be restored soon.
"It (peace process) is not a month or 15-day process of handling the situation. We have to go a long way and I see things moving in the positive direction," Sharma told The Tribune after concluding his four-day visit to Kashmir.
He said separatists had been allowed to move freely because of improvement in the situation in Kashmir. "I am hopeful that complete peace will get restored soon," he said.
Sharma termed the release of separatists as a good development but refused to take credit for it. "There is nothing like the contribution of one person or the other," he said before flying back to New Delhi on Friday afternoon. After being appointed the interlocutor by the Centre in October last year, Sharma was on his seventh visit to the state.
As Sharma was talking peace with few delegations in Srinagar on Friday morning, the state government set free the octogenarian separatist leader Syed Ali Shah Geelani after eight years of house confinement. Geelani was also allowed to offer Friday prayers in a mosque in Hydepora locality in Srinagar. In addition to Geelani, the state government also released two top separatists Yasin Malik and Mirwaiz Umar Farooq.
Officials say the government has decided to allow the separatists to carry out their political and social activities.
However, they have been asked to refrain from making anti-national speeches and creating any law and order problem.
Top News
She is administered the oath of office on Tuesday morning
AAP and Bharat Rashtra Samithi, however, say no to discussio...
Soon after the House meets at noon after the first adjournme...
A man who was in the court to attend a hearing attacked alle...
The three artistes -- Adam Berry, Gurujas and Harijiwan -- a...