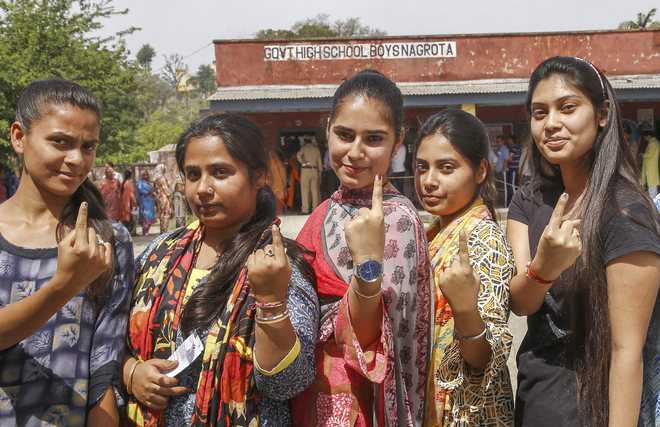 Dinesh Manhotra
Tribune News Service
Jammu, April 19
With the completion of the polling on both parliamentary seats of the Jammu province, one thing has become clear that once again, no woman will represent this part of the Jammu and Kashmir in the Lok Sabha.
Despite their claims, main political parties have continued their 'tradition' of not giving the mandate to women on the two Lok Sabha seats of the Jammu province — Jammu-Poonch and Udhampur-Doda.
Since Independence, women have never got an opportunity to represent the Jammu region in Parliament as mainstream parties have always preferred male candidates for the two Lok Sabha seats.
Of the 78,42,979 voters in J&K, 37,35,227 are women but despite their huge number, they have never got their due share as far as their representation in the Lok Sabha in concerned.
While the Jammu region has never elected any female Lok Sabha member since Independence, two women were elected as the Members of Parliament in the 1977 parliamentary elections in J&K when Paravati Devi of the Congress and Begum Akbar Jehan Abdullah of the National Conference emerged victorious on the Ladakh and Srinagar parliamentary seats, respectively.
Begum Abdullah was again elected the Lok Sabha member from the Anantnag seat in 1984, which was later represented by Mehbooba Mufti in 2004 and 2014.
In the ongoing Lok Sabha elections, except Mehbooba Mufti, who is the Peoples Democratic Party candidate from the Anantnag Lok Sabha constituency, there is no winnable female candidate in the remaining five parliamentary constituencies of the state.
Of the 36 candidates, who contested from the two Lok Sabha seats of the Jammu region, only one was female.
Interestingly, in the first two phases of elections in the state, women outnumbered men in many areas of the Jammu province.
Not given due share
Of the 78,42,979 voters in J&K, 37,35,227 are women but despite their huge number, they have never got their due share as far as their representation in the Lok Sabha in concerned
In the ongoing Lok Sabha elections, except Mehbooba Mufti, who is the Peoples Democratic Party candidate from the Anantnag Lok Sabha constituency, there is no winnable female candidate in the remaining five parliamentary constituencies of the state