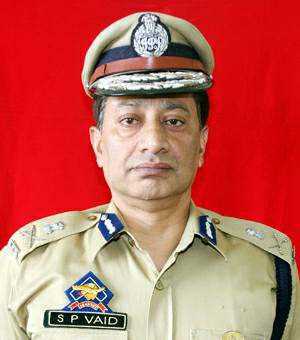 Jammu, March 5
Jammu and Kashmir Director General of Police S P Vaid on Monday said they were investigating the firing incident in which six people, including two terrorists, were killed by the Army in Shopian district.
Vaid said the situation was under control and appealed to the people of Kashmir to maintain peace.
Two weapons, along with other arms and ammunition, were seized from the possession of the militants, who fired upon a joint check-point of the security forces last night, the DGP told reporters on the sidelines of a function here.
The troops retaliated after they were attacked and bodies of two terrorists and four others were recovered, Vaid said, adding that the matter is being investigated.
Asked whether the deceased were overground workers, he said that is what the Army is saying. "We will see what their affiliation was," he added.
On the return of a youth from militant ranks to his family, the DGP expressed hope that more women would make an appeal for their sons' return.
"You have seen six bodies are lying (in Shopian). Taking up arms or joining terrorism only lead to loss of life and nothing can be achieved," he said. On recent advertisements in newspapers seeking deportation of Rohingya Muslims, the DGP said the Union Government would take a call on this issue.
"It is a matter involving two nations and very soon the Centre will address the issue," he said.
Later, launching a website and mobile application of a non-governmental organisation, the DGP said the essential part of parenting is to hold dialogue with children and engage them so that they do not go astray and take to petty crimes. PTI
Top News
Seeks India's cooperation in probe, says info provided by in...
Tensions flared between India and Canada early this week fol...
No arrests have been made
Says Trudeau wanted to ensure Canadians had 'accurate inform...
Public Safety Canada says the circulation of the video is of...