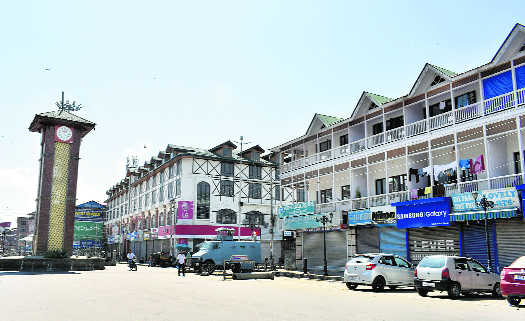 Azhar Qadri
Tribune News Service
srinagar, June 25
A shutdown was observed across the Kashmir valley on Monday in response to an appeal made by three key separatist leaders to demonstrate against recent civilian killings near encounter sites.
The markets across the region were shut while most of the commercial activity was disturbed on the week's first working day. The inter-district public transport services also remained suspended in response to the shutdown.
The shutdown was called by three key separatist leaders — Syed Ali Geelani, Mirwaiz Umar Farooq and Yasin Malik — who refer to themselves as Joint Resistance Leadership (JRL). The three separatist leaders had called the shutdown to protest against the killing of civilians during recent counter-insurgency operations in the Kashmir valley. As part of the preventive measure, the authorities detained Malik at a police station and also placed Mirwaiz under detention at his house here.
The three leaders in their appeal last night for shutdown had expressed "serious concern over the re-starting of Operation All-out and (the) cordon and search operations" in the region, which had stopped for a month till June 17 during a unilateral ceasefire announced by Union Home Minister Rajnath Singh.
In a joint statement, the three separatists accused the security forces of harassing people "of all ages, and when people resist to forces action they are showered with pellets and bullets with a sole aim of killing them".
The JRL leaders said they could not act as "mute spectators over the brutal killings of unarmed protesters".
Four civilians have been killed in the security forces' action against protesters in the past week since the ceasefire ended in the region. The latest civilian casualties took place on Sunday when a youth was killed in Kulgam during protests against the killing of two militants while another youth, who was injured during protests on Friday near the site of gunfight in Anantnag district, also succumbed to injuries at a hospital here.
All the four slain civilians have been killed in districts of volatile south Kashmir.
Protests continue in Kulgam
The funeral of Lashkar-e-Toiba militant Shakoor Ahmad, who was killed along with a foreign militant in Kulgam on Sunday, was held on Monday at his native village and attended by several thousand people. The mobile Internet services remained suspended in Kulgam as protests continued in parts of the district.
Top Stories