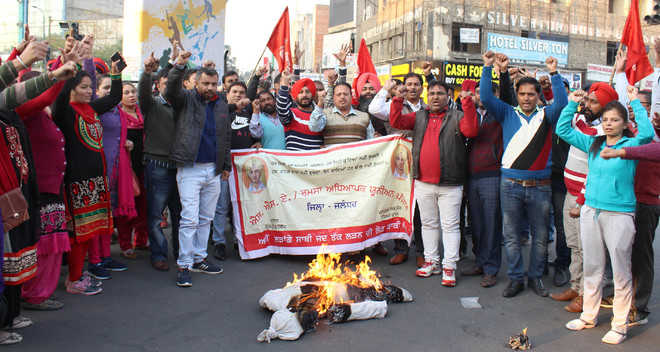 Avneet Kaur
Jalandhar, November 24
Fumed over the government's decision of reducing their salaries to Rs 15,300 after regularising their services, SSA/RMSA teachers under the banner of the Sanjha Adhyapak Morcha will stage a state-level protest in Patiala on December 2.
Farmer bodies, student unions and labour federations, which have extended their support to the protesting teachers, will also take part in the protest.
The decision to hold the protest came after leaders of the Sanjha Adhyapak Morcha had a meeting with different union leaders in Nawanshahr on Saturday. Union leaders have collectively decided to block roads in Patiala that lead to Ambala, Sirhind, Rajpura and Nabha.
The teachers said time and again, the government had called off meetings and was showing no interest in holding a dialogue with them in future. Thereafter, they decided to hold the protest.
The agitating teachers said the protest would continue till the government did not give time to talk to teachers and union leaders on the issue.
Sarabdeep Singh, district president, SSA Adhiyapak Union, said, "The demands of the teachers are going unattended, while the Education Department is busy planning different strategies to lure teachers under its regularisation process".
He said, "We have been demanding a meeting with the Chief Minister since long. The CM had promised to meet teachers on November 5, but to no avail as he did not turn up for the meeting."
He added that another meeting of the teachers with the Education Minister, which was scheduled to be held on November 22, was also cancelled. Sarabdeep said officials had refused to initiate a dialogue till the teachers did not call off their protest.
Condemning the state government's "adamant" attitude, Sarabdeep said, "We are left with no option but to take to roads. Around 1.50 lakh teachers will block roads in Patiala. The government solely will be responsible for any untoward incident or losses."