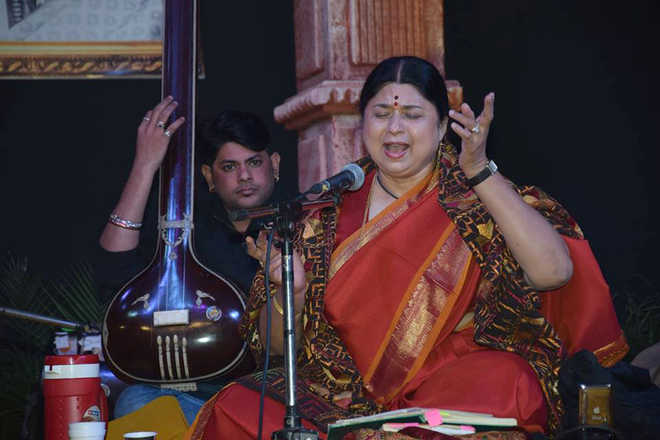 Aparna Banerji
For Kalapini Komkali, more than being just a music festival, the Harivallabh Sangeet Sammelan is a place to pay homage – as was it for her parents, the talented vocalists Pandit Kumar Gadharva and his wife Vasundhara Komkali – who performed here countless times. So, as Kalapini came to perform at the festival for the third time this year (after a gap of five years), it was a feeling of reverence which weighed heavy on her mind for the 142-year-old unbroken chain for the precious classical music tradition. As she started off, she called it no less than a 'teerath' for her.
An excerpt from her interview—
Do you consider yourself essentially a Gwalior Gharana musician?
The teachings of the Gwalior Gharana have been imbibed in me through my parents. While Gandharva ji learnt in the Gwalior Gharana traditions, he later broke away from them. My mother Vasundhara ji learnt music from BR Deodhar ji, who taught her in the Gwalior Gharana tradition. However, I won't say I follow this tradition a 100 per cent. Kumar ji devised a new style and I'm trying to follow his line of musical thought. While the impression of the Gwalior Gharana is prevalent, the base is that but the eventual flavour has changed.
At the time when Kumar Gandharva chose to do away with the practice of the stringent-Gharana style of singing, it was a radical decision. How challenging was it for him and what makes you stick to the style?
Kumar ji took steps towards this style of classical singing as many as 50 to 60 years ago. It was in the early 50s that he first broke away from the Gharana style. I would say he was an artiste who was ahead of his times. His vision was 60 to 70 years ahead of him. Naturally, since he was ahead of his time, his contemporaries had trouble understanding him. It wasn't easy. He firmly believed sticking to a single gharana could be detrimental to the cause of music. So, he imbibed the best of other gharanas into his singing. That is why his music had various flavours – the nuances of various gharanas peeked through it.
Tell us about your initial days of taalim and your relationship with your father.
I started off pretty late and began my taalim with my mother. Back then I didn't have the courage to sit with my father. His teachings were of such a high level that they were difficult for me to understand. After some years, when she thought that I was ready, I started sitting with him. In the beginning, I used to cry. I sung along but never understood what was being taught. It was after a considerable time that I began comprehending what he was teaching me. However, my base was made by my mother. Though, like my father, I'm a breakaway from the gharana style of singing, the firm grounding for the music and start can only be provided by gharana, which my mother did.
Tell us about the Nirguni style of singing which Gandharva ji popularised.
The Nirguni ideology is different. It is akin to Sufi – the concept of a God who is not bound to idols. His is vast and omnipresent. In Malwa – MP – Nirgun singing is pursued very passionately. But my father took it to new heights. Kabir has been a big medium for Nirgun singing, so has been Naath Yogi. I try to take it forward, from where I picked it up from my father.
What is your advice to the new generation of singers.
There is a hurry among the young to get on stage. I advice them to refine their art first and then go after the stage.
Top News
According to Rushdie's agent Andrew Wylie, nerves in his arm...
Natwar was Minister of State for External Affairs when Rushd...
All the four employees were dismissed from service under Art...
The exam was postponed for 11,000 candidates to accommodate ...
Had submitted resignation in Jan 2019 and floated his own po...