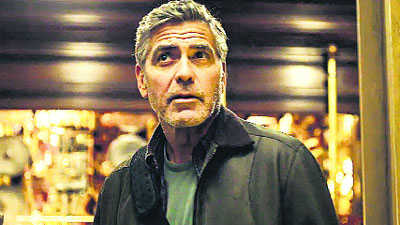 A scientifically minded teenager finds a technologically advanced trinket in her possession, which provides an intriguing glimpse to the future and this prompts her to seek the help of a reclusive inventor (George Clooney) in order to make Tomorrowland a reality!
The film, in fact, opens with a young boy visiting the 1964 world's fair, sampling Walt Disney's It's a small world ride from where he is suddenly transported to a Utopian future full of art deco skyscrapers, monorails and mind-boggling futuristic vehicles, including his own jet pack, which suddenly starts working quite well in the rarified atmosphere of supreme inventiveness. It's a high-tech version of a theme park ride and comes with all the accompanied thrills one would expect. There's quite a dazzling array of techno rides that makes for breathtaking visuals and excitement for youngsters. The choreography, editing, design, sound effects and music are all first rate.
The film works like an elongated dream sequence that pulls out surprises every few minutes. Unfortunately, after a point the thrills begin to pall and boredom begins to set in. But that may be true for the adult in you. For children, there are enough specials that will keep them engrossed and completely captivated. Take a look for sure!