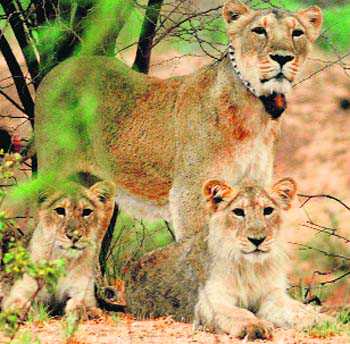 Manas Dasgupta
Ahmedabad, March 9
As many as 310 Asiatic Lions, declared as endangered species, had died in its only abode, the Gir sanctuary in the Saurashtra region of Gujarat, in the past five years, Forest Minister Mangubhai Patel informed the state Assembly in a written reply to a question by a Congress member.
Along with lions, 547 leopards had also died in the sanctuary during the same period. The minister, however, claimed that only 25 of the Asiatic lions had died unnaturally; 10 of them perishing in unprecedented heavy floods in parts of Amreli and Bhavnagar districts last year.
Other causes for unnatural deaths included falling in open wells, electrocution caused by electrified barbed wire, fencing by farmers to protect their agricultural produces from wild animals and accidents on the railway tracks passing through the sanctuary. The road accidents on the highways passing through the forest also accounted for a few unnatural deaths, he said. Besides lions, 121 leopards also faced similar unnatural deaths including four being hit by passing goods train, he added.
To prevent such accidents, the government was constructing speed-breakers on the highways passing through the forest areas and parapet walls around the open wells, fencing the railway track on both sides and increased vigil against the farmers electrifying the barbed wire fencing, besides imposing heavy penalty on the farmers ignoring the government order, the minister said.
Top News
Asks not to spread fake news amid reports of her distancing ...
'US-India partnership is a cornerstone for a free and open I...
Rehana Fathima, a woman's right activist, was facing charges...
On August 3, 1991, Congress leader and brother of former MLA...
Injured admitted to hospital in Imphal where their condition...