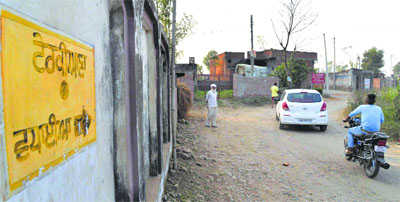 Aparna Banerji
Tribune News Service
Terkiana/Badhaiya (Hoshairpur), November 30
Nearly 45 persons have died of AIDS at Terkiana and Badhaiya villages of Dasuya in Hoshiarpur in the past 15 years. Besises, many villagers are reportedly infected with the virus. Though some admit, the rest try to hide it despite being severely ill.
In Terkiana, two women whose husbands succumbed to the virus in 2011 were denied a job at the local anganwari centre as they too are HIV positive. Currently doing odd jobs and surviving on the villagers' help, one of them said: "I got married 13 years ago and came to know about the disease around four years ago when my husband died of it. Now, I live for my daughter, who, fortunately, has tested negative for the virus."
Another widow whose husband met the same fate six years ago has three children and battles similar troubles to make ends meet. A 65-year-old domestic help who got to know about the infection in 2002 lost her job after her husband, a truck driver, died of AIDS. Now, her daughter, who is married in another village, stays with her. The scenario was not the same in 1990s. With no jobs in the area, majority of the men in Terkiana village started seeking employment with some transport companies and went for tours across the country. A majority of those who died of AIDS were drivers and transferred the virus to their families. While HIV positive patients get treated at Art Centre in Jalandhar, a team from the Punjab State AIDS Control Society is yet to visit the villages.
Two years ago, villagers set up a committee, Baba Makhan Shah Lubana Charitable Society, to help these families monetarily with the aide from the village NRIs. Hira Singh, a committee member, said: "The situation is already a catastrophe, but the risks are growing. The lack of awareness adds to the problem. Many infected persons are still in denial due to the stigma attached."