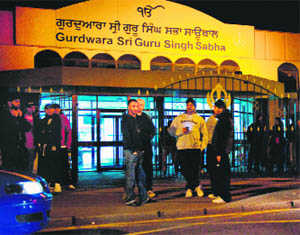 Ashis Ray
London, January 6
The Indian High Commission in Britain today defied a pompous ban on Indian diplomats entering gurdwaras issued by the pro-Khalistan Sikh Federation UK (SFUK). A minister at the mission visited a gurdwara in Southall in west London and met members of the Sikh community. Another visit to a gurdwara in the Midlands is planned for tomorrow.
Deputy High Commissioner Ambassador Dinesh Patnaik declared: "A gurdwara is a place of worship, it should not be politicised."
The seniormost Indian origin MP in Britain, a former minister and Chair of the powerful Home Affairs select committee, Keith Vaz, condemned the SFUK announcement, stating, "This is an extraordinary decision and one that is deeply concerning. I hope those who made it will reflect on what they have done and review it immediately. All places of worship in the UK should be open to all."
(Follow The Tribune on Facebook; and Twitter @thetribunechd)
The International Sikh Youth Federation (ISYF), which has effectively evolved into SFUK, was proscribed by the British Government in 2001 under the UK's Terrorism Act. This restraint was lifted in 2016 when Theresa May, now PM, was Home Secretary. The reason given in the House of Commons for lifting the proscription was: "There is now not sufficient evidence to support a reasonable belief that the ISYF is currently concerned in terrorism as defined by Section 3(5) of the Terrorism Act 2000."
However, in 2012, Sikh extremists tried to assassinate Lt Gen KS Brar (retd) and his wife. In 1984, the officer had commanded Operation Bluestar to flush out terrorists from the Golden Temple in Amritsar.
Up to 20 per cent British Sikhs are estimated to have fissiparous tendencies, as reflected by their refusal to identify themselves as 'ethnically Indians' in the last UK census.
In the past decade, there has been a systematic radicalisation of Sikh youths, with the British authorities paying scant attention to it.
SFUK's latest move was a copycat action. Sikh separatists in Canada had ordered the same earlier in the week. It claimed up to 70 gurdwaras were ready for the "ban". In recent months, it has been agitated over the arrest of UK-based Jagtar Singh Johal, detained in Punjab on suspicion of being involved in "targeted killings" in Jalandhar, Ludhiana and Khanna.
The SFUK, unnerved by a charm offensive by the Indian High Commission with celebrations of Guru Gobind Singh's 350th birthday and Baisakhi, has termed these as "interference and anti-Sikh activities".
It is further unsettled by Punjab Chief Minister Capt Amarinder Singh's "connect with your roots" initiative launched in London in September 2017, aimed at countering the disinformation encountered by the younger generation of Sikhs in Britain.
Another grievance of the hardliners is the alleged lack of progress in granting amnesty to those who indulged in terrorism in Punjab, contrary to an assurance given by Prime Minister Narendra Modi to local Sikh leaders during his 2015 London visit.
When approached, the British Foreign Office passed the buck. "The Home Office should be able to help you with your questions about the Terrorism Act and internal UK matters," a press officer indicated. But a key source in the Foreign Office said it was "keeping an eye" on the SFUK and would not allow its attention-grabbing tactics to spoil UK's bilateral ties with India.
London's Metropolitan Police, better known as Scotland Yard, asked whether it would provide protection to Indian diplomats against potential terrorist threats in gurdwaras, responded: "The police would only attend if a crime was committed or to prevent a breach of peace."