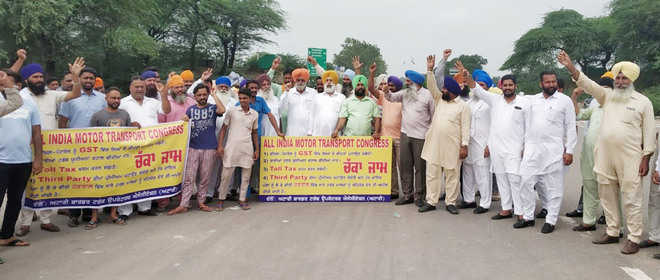 GS Paul
Tribune News Service
Amritsar, July 26
The Indo-Pak trade operating through the Attari border came to a standstill on Thursday as the Attari truckers, too, joined the nationwide strike called by the All India Motor Transport Congress since July 20.
Hundreds of trucks lined up along the road approaching the Integrated Check Post (ICP) and the traders had no option but to wait for the strike to end.
An estimated 250 Pakistani trucks arrive daily at the ICP, Attari. In the absence of further transportation, the goods, including dry fruit, dry dates and moong dal, arriving from Pakistan and Afghanistan get piled up there. Chairman, Associated Chambers of Commerce and Industry of India (ASSOCHAM), Punjab, Suneet Kochhar viewed that at a time when rupee had strengthened and exports were profitable for the nation, the transport strike had marred the foreign exchange earnings. "The government ought to find a solution early as most of the small units in Punjab hold only four to five days of inventory. The strike will affect 60 per cent of such units and many may close down if the strike continues," he said.
Apart from demanding reduction in diesel prices by bringing it under the ambit of the GST, truckers are against the "flawed and non-transparent" toll collection system that "favours" road contractors. The truckers are also miffed at high insurance premiums.
A member of the Attari Truck Association, Kulwinder Singh Sandhu, said, "From here we pay Rs 14,000 as toll to transport goods to Indore and Rs 8,000 for Delhi. Many toll plazas have already lost their validity, but they are being operated in connivance with government officials," he said.
His colleague Amarjit Singh Chhinda said, "There should be GST exemption on the third-party premium of truck insurance. The insurance premium amounting to Rs 48,000 to 90,000 is too much," he said.
Ashok Sethi, Director, Confederation of International Chambers of Commerce and Industry, has requested the Central Warehousing Corporation not to charge for storage, demurrage and other things for the period of the truck drivers' strike.