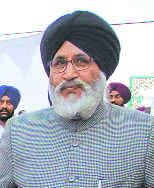 Jupinderjit Singh
Tribune News Service
Chandigarh, June 4
A five-member committee of the SAD formed to restructure the organisation setup post Lok Sabha elections will meet first time tomorrow amid rumblings in the party on decision-making process, allegations against the leadership by the party's former leader Manjit Singh GK and increase in influence of the coalition partner — BJP.
The five-member committee comprises Balwinder Singh Bhunder, Dr Daljit Cheema, Tota Singh, Manjinder Singh Sirsa and Prem Singh Chandumajra.
Reports suggest the committee wants to have a look at the organisation setup of the BJP, which may seek bigger share in seats for the 2022 elections based on party's performance in the Lok Sabha polls. Party president Sukhbir Badal had formed the committee during a meeting of the party's core committee after the poll results.
The meeting had witnessed tense moments when some leaders pointed out that certain decisions taken by the committee earlier were changed by the leadership. There was also a heated argument between former MP Prem Singh Chandumajra and party adviser on national affairs Harcharan Bains on some press statements.
The party won two out of the 13 seats it contested in Punjab. A party leader said it was a great concern that Akalis had lost Sikh votes and it seemed they got more Hindu votes. Some leaders said the Badal family won, but the party lost.
On the other hand, Sukhbir Badal has flagged increase in vote percentage of the party to 27.4 per cent now from 26.3 per cent in the 2014 Lok Sabha elections.
Party spokesperson Daljit Singh Cheema said the meeting tomorrow would discuss the organisation setup for better results. He dismissed other issues as minor.
A senior leader has claimed that the focus of the party seems to be more on Bathinda and Ferozepur.
Post poll, time to introspect
Reports suggest the committee wants to have a look at the organisation setup of the BJP, which may seek bigger share in seats for the 2022 elections based on party's performance in the Lok Sabha polls
Party spokesperson Daljit Singh Cheema said the meeting would discuss the organisation setup for better results. He dismissed other issues as minor
Top Stories