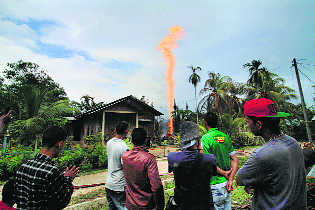 Banda Aceh, April 25
The death toll from a blaze at an illegal Indonesian oil well today has jumped to 18 with dozens injured, authorities said, warning there could be yet more victims.
Images from the accident showed a towering flame shooting some 70 metres above homes and palm trees dotting a small community in Sumatra island's Aceh province.
Firefighters this afternoon were still battling the blaze sparked by an oil spill at about 1:30 am in a residential area. Several homes were destroyed. "We're still unable to control the fire," said Syahrizal Fauzi, head of the local disaster mitigation agency. "We don't know if there are still victims because we cannot get any closer."
Authorities initially said at least 10 people died and some 40 "severely injured" victims were being treated.
The jump in the death toll was due to the subsequent deaths of eight victims who had been rushed to hospital, authorities said.
"There was a group of people digging in the old well but suddenly a huge fire was sparked and it exploded," said national police spokesman Setyo Wasisto.
The victims were collecting oil from around the entrance of a well bore when the blaze erupted, police said.
It was not known how much oil was spilled or what ignited the fire, but authorities suggested a lit cigarette as a possible cause. — AFP
Top News
Deal expected to be complete by March 2024 | Tata group owns...
In his first major foreign policy speech since taking charge...
Actor Anupam Kher condemns Nadav Lapid's controversial remar...
Gilon also pulls up Indian social media users doubting the h...