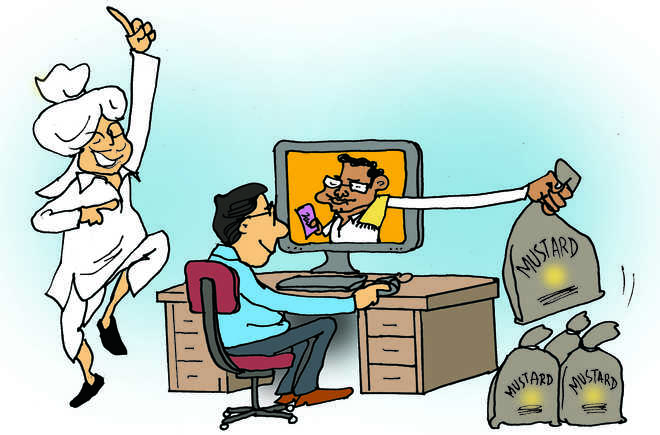 Vijay C Roy
Tribune News Service
Chandigarh, January 30
Come February-end, Mustard farmers in Haryana will be able to sell their produce in other states through e-NAM (National Agriculture Market) platform. Haryana will be the first state in the region to facilitate inter-state trading. Currently, the trading of commodities is restricted to within state (intra-state) only. The facility will provide better bargaining power to the farmers.
E-NAM platform was launched by Prime Minister Narendra Modi in April 2016. Almost three years after the launch, the first inter-state trade happened earlier this month between a mandi in UP and Haldwani in Uttarakhand when tomatoes were traded.
"Mustard will be harvested in Haryana by next month. To start with, we are targeting to facilitate inter-state trading in mustard by February-end followed by other crops," said Haryana State Agriculture Marketing Board's chief marketing enforcement officer Raj Kumar Beniwal.
The total area under mustard in Haryana this year is around 13 lakh acres and the state is expecting a bumper production this year. The anticipated production will be 50-60 lakh quintals. Last year, around 35 lakh quintals of mustard crop was traded through different mandis of the state.
The state is taking a slew of measures to make the scheme more attractive for traders and farmers to buy and sell agri-produce across the states through e-NAM. "We have decided to give 350cc motorcycles to top 10 farmers in the state in terms of trading volume. Similarly, top 10 commission agents and secretary of the marketing committee will be rewarded with 350 cc motorcycle. The other junior staff will be given cycles," he added.
Haryana implemented e-NAM from two markets, namely Karnal and Ellenabad, from April 2016. The state has now connected 54 mandis with the platform. It traded 278 lakh quintals of agri produce valuing Rs 8,130.7 crore in the current financial year (up to January 29) with over 20 lakh farmers registered on the platform.
The Central government has also given its nod to link another 27 mandis on e-NAM platform. The state has total 113 mandis. The state aims to connect all mandis by the end of this year.
Haryana and Himachal Pradesh were among the 18 states and Union Territories to adopt e-NAM nearly three years ago. Punjab, which joined the platform, is the latecomer in e-NAM platform as compared to its neighbours such as Haryana and Himachal Pradesh because of inertia and arhtiya lobbies.
Punjab and Himachal Pradesh are also working on the modalities and join the inter-state bandwagon once the requisite legislation is done.
Himachal Pradesh implemented e-NAM on April 14, 2016 with two mandis. Now, it has linked 19 mandis of the state with the online platform. It is the only state where all horticulture produce (fruits and vegetables) are traded online.
e-NAM is a Central government project to create a pan-India electronic trading portal that seeks to link existing Agricultural Produce Market Committees (APMCs) and other mandis in a unified national market for agricultural commodities.
Top News
Isaac Herzog seeks India's help in release of hostages held ...
TMC MP can be expelled only if the House votes in favour of ...
PM Netanyahu says Hamas did not release all women hostages a...
The decision amounts to creating a parallel jurisdiction, ta...
Prime Minister says Green Credits Initiative surpasses comme...