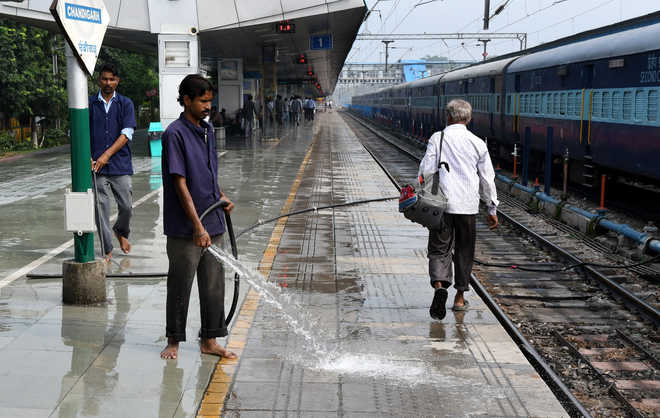 Tribune News Service
Ambala, November 7
If you are littering at the railway station, beware! You will be caught and fined for it. The Northern Railways has caught 4,001 persons and recovered over Rs 6.78 lakh fine from them in the Ambala Division in the past six months.
After cracking the whip against the ticketless train travellers, the Railways have launched a special drive to keep the stations neat and clean.
"Special emphasis has been laid on curbing the menace of littering among the general public to make the railway stations clean. For this purpose, regular checks are conducted over the main stations of the division. As a result, 4,001 passengers were apprehended under the Anti-Littering Act and Rs 6,78,315 has been recovered as fine from them," said Hari Mohan, Senior Divisional Commercial Manager here today.
The Ambala Division had launched an anti-littering drive in May to curb the menace of littering on platforms and in trains.
Under the drive, the Railways have deputed personnel on platforms and trains to keep a check on those littering and defying the Anti-Littering Act. "All such passengers and visitors are caught on the spot and challaned with fine," he revealed.
Under the drive against ticketless travellers, the Ambala Division had collected a whopping sum of Rs 27.45 crore from passengers travelling without or improper ticket during the seven months of the current fiscal.
This collection included Rs 5.03 crore realised from the defaulters during the month of October alone, which was the highest-ever collection in a single month so far.
Top News
This comes amid a diplomatic row between India and Canada ov...
Was speaking to Indian journalists in Washington
Granthi Giani Jaswinder Singh from Pine Hill Gurdwara in New...
Heavy security deployed to deal with the situation
Head Constable Chaubey Singh, Constable Omveer Singh and Con...