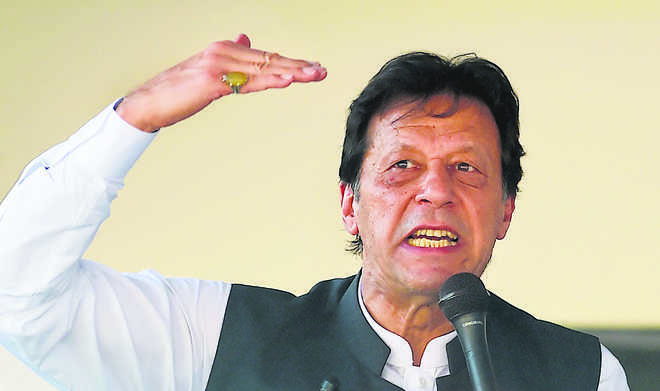 Shalini Chawla
Distinguished Fellow, Centre for Air Power Studies
Imran Khan has repeatedly flagged the possibility of a 'nuclear war' in the last one month. Highlighting the nuclear factor by Pakistan displays its immaturity and desperation to attract global attention towards Kashmir.
Abrogation of Article 370 by India did leave Pakistan surprised and it has been reacting furiously on various fronts, displaying its anxiety to deal with Jammu and Kashmir's new status. Pakistan has launched a propaganda/narrative war and is making aggressive efforts to fallaciously project India as a state run by 'Nazi ideology' under Prime Minister Modi. Highlighting Kashmir at every possible international forum, it is leaving no opportunity/space to remind its economically stifled population about their right to fight for Kashmir and Kashmiris. Even though Pakistan is struggling with a low growth rate, high inflation and rising debt figures, and Imran's party has failed to deliver most of its election promises, the leading agenda for Imran is Kashmir and communication restrictions in the Valley.
Prime Minister Imran Khan, in his unrelenting tweets, has repeatedly highlighted the nuclear threat in various forms: both India and Pakistan possess nuclear weapons and, thus, any crisis in the region is alarming; Pakistan has nuclear weapons and, thus, probability of a nuclear war is high; India's nuclear weapons are a threat to global and regional security.
Pakistan has used the nuclear card in the past spasmodically. This stems from its basic insecurity as a state and its failure to develop its strengths. Islamabad has long tried to balance its domestic vulnerabilities with nuclear weapons, which it treats as the ultimate guarantor of its survivability and security. Its nuclear history and thinking explicitly explain its nuclear behaviour and brinkmanship that we see today.
Pakistan started to think about nuclear weapons seriously after its defeat in the 1971 war. Nuclear weapons were, perhaps, seen as the sole guarantor of Pakistan's security against (perceived!) a hegemonic India, which remains Pakistan's enemy number one till date. This was the threat that the Pakistan military created and treated as 'indispensable' in order to sustain its dominance in the social, political and economic dynamics of the democratically weak state.
The central assumption on which Pakistan has progressed and built up its nuclear arsenal is that a credible nuclear deterrent would compensate for the inferiority of its defence forces. Pakistan has also been dissatisfied with the small size of the country which Jinnah termed as "moth-eaten". Pakistan received generous support from China for its nuclear programme and, in its pursuit of nuclear power status, it also had financial support from Saudi Arabia and Libya and, eventually, it shared nuclear data and expertise with Iran, Libya and Iraq.
In the pre-nuclear test period, Pakistan's position on nuclear weapons was of ambiguity. Islamabad conveyed the message of possessing a bomb and potentially using it against an Indian attack in an interview of AQ Khan by veteran Indian journalist Kuldip Naya, at the time of Operation Brasstacks in 1987. Pakistan, till today, does not have an officially announced written nuclear doctrine and there is an unofficial code adopted by the Pakistani leadership, based on Indo-centricity, credible minimum deterrence (now full spectrum deterrence), strategic restraint and first use. Pakistan very conceitedly (and rather often) talks about Tactical Nuclear Weapons (TNWs)-NASR which, in its opinion, would deter India from a conventional military response.
Pakistan's nuclear posturing has focused on the projection of a low threshold with a First Use Doctrine. Nuclear threat has been used in the past rather frequently to deal with any crisis. Nuclear weapons for Pakistan serve mainly three objectives:
1. The nuclear weapons and the First Use Doctrine are meant to neutralise India's conventional superiority and to deter India from a conventional response in any form.
2. The weapons are projected as the ultimate guarantee for Pakistan's security and survivability.
3. Pakistan has frequently used its nuclear assets as an instrument of blackmailing. The acquisition of nuclear capability (in 1987) enhanced Pakistan's capability to wage and escalate the covert war in Kashmir. Policy-makers in Pakistan seem to be convinced that they will be able to carry on, or rather accelerate, their activities in Kashmir under the broader threat of using nuclear weapons, if required, and this would constrain India's strategic moves.
Pakistan claimed that it had the capability to build a nuclear bomb in 1987, and in 1989, the then Army Chief, General Aslam Beg, announced the famous 'offensive defence doctrine'. It is noteworthy that during the late 1980s, the activities in the Valley witnessed a shift and the terrorist acts increased significantly in number and were planned in a more organised manner.
Pakistan's nuclear posture does reflect some distinct contradictions. It talks about being a restrained and responsible nuclear power, but at the same time, relies on a First Use Doctrine and boasts about TNWs and Full Spectrum Deterrence. It continues to assert that it does not want to start a war with India and highlights the disastrous consequences of a nuclear war, but repeatedly flags the threat of nuclear conflict, creating war hysteria in the region. It would not be incorrect to state that Pakistan has very rationally adopted the posture of irrationality.
Pakistan's nuclear posturing suffered a blow to some extent with India's airstrikes in Balakot on February 26 in retaliation to the terror attack in Pulwama claimed by Jaish-e-Mohammed (JeM) on February 14. But it seems that Pakistan's reliance on nuclear weapons to serve its strategic objectives has not been altered. Its reliance on nuclear deterrence has intensified, with constantly growing asymmetries between India and Pakistan over the last two decades. At this point of time, Pakistan's repeatedly flagging of nuclear threat can be attributed to mainly two factors.
Firstly, Pakistan has spent an enormous amount of national resources in the build-up of nuclear arsenal on the pretext that nuclear weapons are the ultimate weapons for the state's survival and security. Pakistan has always prioritised its defence expenditure, even though it has been at the cost of the socio-economic development of the country. The leadership at this point wants to justify the enormous nuclear build-up to its own population and ensure them that nuclear weapons will ultimately guard Pakistan's fortune.
Secondly, Imran Khan wants to remind India and the international community about the presence of nuclear weapons in the region and the dangers emanating from a potential nuclear war. Pakistan is exerting all effort to get international attention on Kashmir by flagging the nuclear threat.
Top News
Resolution gets the backing of 13 Council members, while the...
The written answer to unstarred question number 980, uploade...
Punjab Police tell Punjab and Haryana High Court that the in...
Move comes day after Ali walked out of Lok Sabha proceedings...
The tax department has deployed about 40 large and small mac...