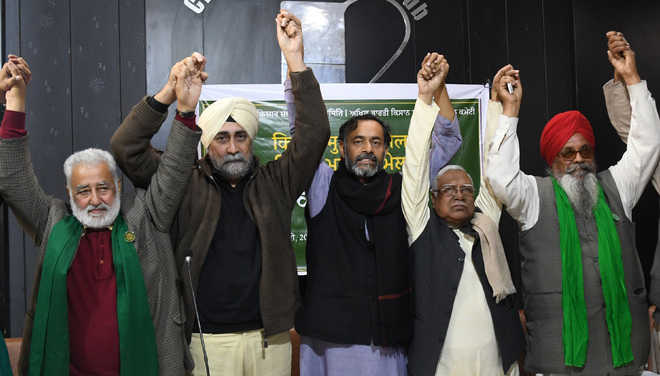 Tribune News Service
Chandigarh, February 4
With debt relief and assured remunerative price for crops among their major demands, 191 farmers' groups from across the country have come together to pressure the Centre for fulfilling its pre-poll promises.
Representatives of the All-India Kisan Sangharsh Coordination Committee (AIKSCC) held a 'Kisan Mukti Sammelan' here today to discuss farm suicides and mull ways to help farmers in distress.
The convener of the committee VM Singh, who is also the president of the Rashtriya Kisan Mazdoor Sangthan, said the death of 6 agitating farmers during police firing at Mandsaur on June 6 last year led to coordination between various farmers' groups.
"We want the government to fulfil its promises. The Swaminathan report, which was submitted to the government in 2006 and was to be implemented in August 2007, is still pending," Singh told the media.
He distributed copies of The Farmers' Freedom from Debt Bill, 2017 and The Farmers' (Right to Assured Remunerative Price for Agriculture Produce) Bill, 2017 passed by 'Kisan Sansad' on November 24 last year and said the Bills would be debated in public and introduced as a private member Bill in Parliament.
Yogendra Yadav, founder of Jai Kisan Andolan and president of Swaraj Abhiyan, alleged that Union Finance Minister Arun Jaitley announcement to raise the minimum support price (MSP) of all crops to at least 1.5 times the production cost was nothing but a farce.
"The BJP government is trying to cheat farmers by shifting the goalposts. The Swaminathan report recommended that the MSP should be calculated as 1.5 times of the comprehensive cost (C2), but the BJP government has devised a formula of 1.5 times of the A2 plus FL," Yadav said.
The A2 costs basically cover all paid-out expenses, both in cash and kind, incurred by farmers on seeds, fertilisers, chemicals, hired labour, fuel, irrigation, etc.
The A2+FL cover actual paid-out costs plus an imputed value of unpaid family labour. The C2 costs are more comprehensive, accounting for the rentals and interest forgone on owned land and fixed capital assets, respectively, on top of A2+FL.
Hanan Mollah, eight-time MP from West Bengal and general secretary of All-India Kisan Sabha, alleged that the government waived loans of NPAs running into several lakh crores though these affected 600-700 people, whereas it was not willing to waive small loans of farmers.
Darshan Lal of the Bharatiya Kisan Union (Ektta-Dakaunda); Satyawan, president, All-India Kisan Khet Mazdoor Sangthan; Dr Sunilam of the Kisan Samgharsh Samiti, Madhya Pradesh; and Ruldu Singh, president, All-India Kisan Mahasabha, were present.
Top News
Addressing a rally in Baramulla, Shah asks whether terrorism...
Development in Himachal possible as people voted BJP to powe...
The Ministry of Defence spokesperson from Tezpur says the mi...
45-50 people, including women and children, were on the bus
Reason for the crime not yet known