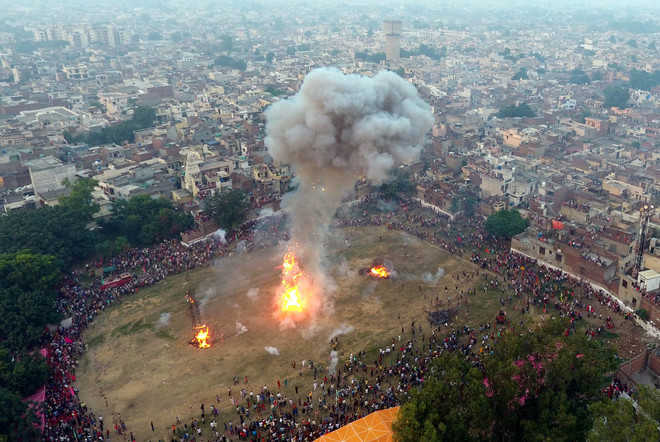 Aparna Banerji
Tribune News Service
Jalandhar, October 13
City residents can brace up for pre-Diwali advisories at cinema halls for going easy on crackers this Diwali. In a special video being released regarding the ill effects of firecrackers on animals and birds, the Punjab Pollution Control Board (PPCB) will ask the residents to observe an eco-friendly Diwali.
To spread awareness among the citizens of the country regarding noise pollution and air pollution levels sky rocketing in the district before and during Diwali, the Punjab Pollution Control Board will be disbursing the video on the issue to all cinema halls and multiplexes. The video shall be played in all theatres from a week before Diwali. A meeting of PPCB officials was also held with the cinema hall and multiplex owners here today in this regard.
While as per the PPCB stats, the 'before burning' levels in noise pollution this year have registered a one decibel increase and the during burning levels have seen a two decibel decrease as compared to last year. The 'After burning' noise pollution levels on Dusehra this year have undergone a six decibel decrease.
While 65 is the prescribed limit for ambient noise levels in commercial areas in the district by the CPCB – the ambient noise levels witnessed on Dusehra this year were 77 (before burning), 99 (during burning) and 76 (after burning). Whereas the ambient noise levels witnessed on Dusehra in 2015 were 76 (before burning), 101 (during burning) and 82 (after burning).
While the city witnessed an almost grey sky right after effigies of Ravan were burnt on the Dusehra evening, the PPCB officials said the air pollution reading weren't taken on Dusehra as per a countrywide protocol on Dusehra day but ambient air readings shall begin to be taken a week before Diwali, as is done every year.
The PPCB will be taking ambient air readings from October 25, on Diwali day and following it. A detailed schedule regarding this shall also be released by the PPCB within days.
Sandeep Bahl, Senior Environmental Engineer, PPCB, said, "We are making all efforts to ensure both noise and air pollution levels are not allowed to skyrocket this Diwali, for which videos are being disseminated and we are also in conversation with the MC and the district administration that firecrackers aren't sold anywhere except the stipulated area. For the purpose of spreading awareness among residents, a meeting with all cinema hall owners has also been conducted today. The video shall run across cinema theatres in the zone a starting a week before Diwali, before every movie. On Dusehra Day also, the ambient noise has come down two decibels compared to previous years. So things are certainly better than previous years."
Comparative ambient noise levels on Dussehra for three years:
Year Before Burning
Leq db (A) During Burning
Leq db (A) After Burning
Leq db (A)
2014 76 97.5 84
2015 76 101 82
2016 77 99 76
Note: Story sent via email too.
Top Stories